An end to the most deadly Ebola outbreak in history seems to be in sight. No new cases have been recorded in Liberia for the past two weeks, and 116 new cases have emerged in Sierra Leone and Guinea in the week of Mar. 8, down from 132 the previous week. Currently, the target is to eliminate Ebola entirely in these countries by the end of April.
But even if the virus, which has killed nearly 10,000 so far, is eradicated, the costs will linger for a long time in West Africa, and not just in the three countries where the majority of cases were found. "Fuelled by stigma," the economy of West Africa as a whole will lose up to $4.9 billion per year through 2017, according to a new report by the United Nations Development Group.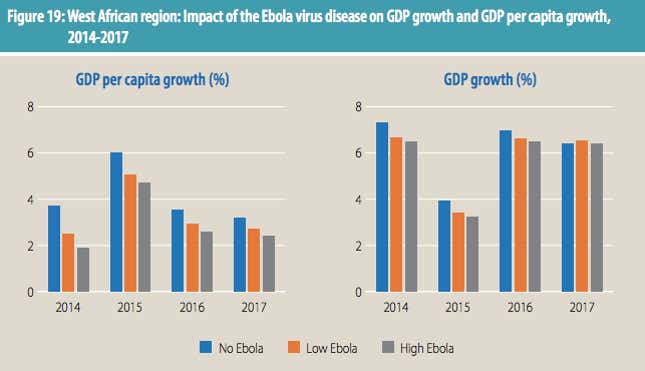 The lost economic output, worth around 1.2% of West African GDP in the most likely scenario, will be down to "a decrease in trade, closing of borders, flight cancellations and reduced foreign direct investment and tourism," the report says.
That will have a big impact on poverty in the region, with an increase in the population of people living below the poverty line rising by up to 22% in the countries hit hardest by Ebola. And even countries with no or very few reported cases will feel the effects: in Côte d'Ivoire, the poverty rate is set to rise by nearly 3% higher than it would otherwise be thanks to the virus.