Elon Musk's Twitter game remains solid.
The Tesla CEO teased a significant update to the company's flagship Model S sedan yesterday.  Cue excitement in the media and in the markets: Tesla shares have shot up almost 2% this morning.
The update is designed to alleviate "range anxiety" among Model S drivers. That refers to the very real fear that your Tesla will run out of juice someplace where you don't have the ability to recharge it. (I experienced this when I rode around in a Model S last year).
This remains an issue. Although there are now 380 supercharger stations across  North America, and you can also charge up a Tesla (more slowly) using a standard household power outlet and adapter, neither of these are particularly helpful if you are stranded on a highway somewhere.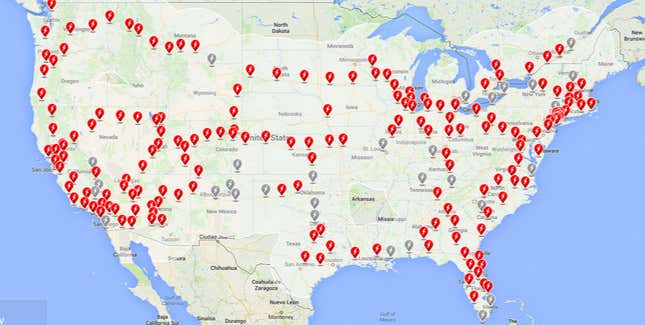 This will be rectified via a software update that will be automatically pushed out "over the air" to users. Of course, that begs the question, how is it even possible to extend the range of a car via a software update? We will have to wait till Thursday to find out specifics, but previous software updates have made Tesla vehicles go faster, and improved safety functions like collision warning systems and automatic braking. So it's entirely plausible that its software is advanced enough to extend the driving range of its cars as well. Consider the following section (p5) of the company's annual report:
[Tesla] software algorithms enable the vehicle to mimic the "creep" feeling which drivers expect from an internal combustion engine vehicle without having to apply pressure on the accelerator. Similar algorithms control traction, vehicle stability and the sustained acceleration and regenerative braking of the vehicle.
Which brings us back to the key advantage Tesla has over its rivals. It may be relatively new to the auto industry, but it is first and foremost a tech company, and notwithstanding a nascent talent war with Apple, has access to the "best and the brightest software engineers" in Silicon Valley, the world's capital of innovation.
Or as Morgan Stanley's Tesla über bull Adam Jonas put it in a research note last year: "Tesla's fleet is 100% electric and connected.  As the role of software engulfs the car, the world's only Silicon Valley-based car company has the upper hand."