For all the whispers of 'change' from the 'everyman' in Abuja who would like to see Nigeria's President Goodluck Jonathan, sent packing on election day on March 28, there are loads more vociferous supporters who want him reelected.
Miles away from the arid sun-scorched Abuja federal capital territory, here on the banks of the River Niger and the entry way to the delta riverine area it would be wrong to say Jonathan's opponent, the former military dictator, Muhammadu Buhari has no support.
But it feels negligible. Barely detectable.
Few here believe Buhari, and his party, All Progressive Congress (APC), are actually agents of change. Here, and across the other five states that make up the so-called South-South, geopolitical zone,  Jonathan is 'The One' even though he is much-maligned in other parts of the country.
"There's no two ways about it. The man has performed creditably well and they love him," said Obi Kingsley Adimkpaya, 35, a native of Asaba and a lifelong resident of the Delta.
"If you ask a common man on the street, he will tell you the household name is Goodluck Ebele Jonathan."
And that holds for much of the myriad of smaller ethnic communities in the entire area.
Many point to Jonathan's quelling of the youth restiveness among the Niger Delta militants who for years blew up oil pipelines and kidnaped foreign workers.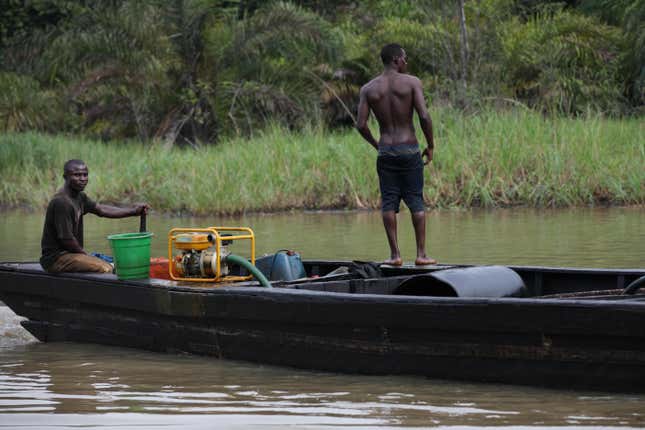 Adimkpaya added: "He engaged them to services, they started training them and they are gainfully employed. We are experiencing maximum peace in Delta. We don't have the crime and kidnapping like it used to be in those days."
Jonathan's People's Democratic Party (PDP) is firmly entrenched here.
It is impossible to understand the dynamic patterns of Nigerian voters without looking closely at their ethnic and geopolitical leanings.
Even if they feel Jonathan has public policy failures, south-easterners and mid-westerners in Nigeria will vote for Jonathan because of the perception that northern politicians, in particular those of Hausa-Fulani origins have had more than their fair share of occupancy of the Aso Rock Presidential Villa. Since independence in 1960 nine of Nigeria's 14 heads of state have been from the northern part of the country.
Sticking with your own
Most people here feel a 'south-south' candidate should have an opportunity for two terms as president. And many believe that northerners have tried for years to sabotage and undermine Jonathan from the get-go.
It has angered and galvanized some, who say said they weren't inclined to participate, are voting for Jonathan now.
"Number 1 is geopolitical fairness," said Jude Mordi, 46, a shrimp distributor. "There seems to be this whole thing about power belonging to the north, that's basically why I decided to vote in the first instance.
He added: If Nigeria is one country I don't see why someone should be bamboozled out of the presidency because of where his from. It would be a real contest, had APC picked anyone from the south-south."
That is the thinking among many and the system Nigeria operates under, Mordi told me asking then why he shouldn't vote for his kinsman.
Even when folks whisper, it's about how terrible Buhari would be.
One retired civil servant, a septuagenarian, remembers Buhari's 20-month reign from 1984 to 1985 for shutting down progressive projects such as Lagos's plans to build a metro rail line that might have eased the commercial capital's endemic traffic problems. She also praised Jonathan for finally  funding a second Niger Bridge, the sole road gateway to the South-East from Asaba after decades of outcry to replace the 1960s bridge which has fallen into bad disrepair.
Others point to what they see as Jonathan's strong handling of Boko Haram in the early days which led to northern politicians coming down on him hard with some accusing him of genocide.
Phantom Boko Haram
"They called Boko Haram a phantom. And afterwards Buhari said it was the first time he sees a president declare war on his own people. We have selective amnesia," Mordi said.
This is, of course, in stark contrast with the narrative in the north of the country where Boko Haram has killed nearly 20,000 people and displaced over 1 million from their homes. The president has often been accused of being weak and ineffectual in dealing with the terrorist insurgency – though recent Nigerian military successes are finally changing that narrative.
But in this part of the country, Jonathan's heartland, they blame northern politicians for allowing the insurgency to fester in a bid to destabilize the president.
The bigger issue, one high-ranked military officer told me in Abuja last week, was that very large parts of the north remain underserved with primary and secondary schools for basic education, leading to the kind of environment that allows anti-Western education movements like Boko Haram to fester.
With all the northerners that have been in power, why is this the norm? he asked. "Can you imagine this in the South?
No I can't. Especially nearly 55 years after independence.