A look at enrollment data from US News shows that American law schools are in rough shape. Enrollment has plunged from a high point about four years ago, and is now at its lowest since the 80s. And things won't get much better in the immediate future as fewer and fewer students take the LSAT admissions test.
Low ranked schools are among the hardest hit as students have grown more concerned about landing decent jobs after they graduate and paying off debt. That includes Nova Southeastern (it saw enrollment decline by a total of more than 500 students over the past decade), and Golden Gate University. But more highly ranked schools are losing student interest as well. That includes Case Western, SMU and Ohio State.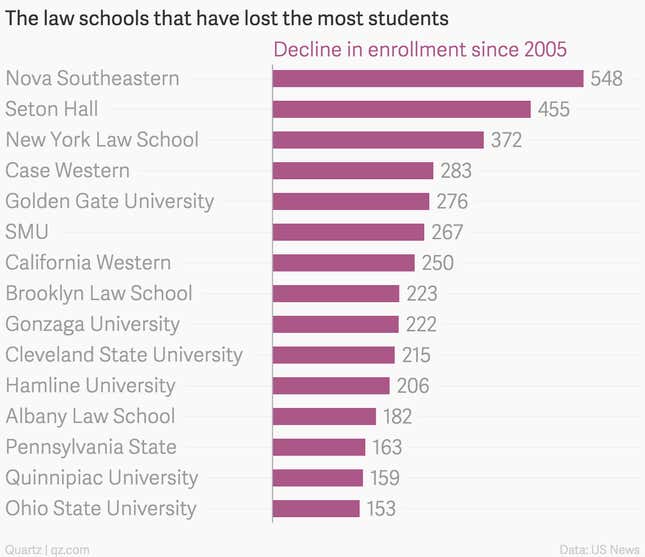 Elite schools are doing substantially better, unsurprisingly. In fact, the top 6 have added students. And even though the bottom end of the top 10 have shed students, it's nothing like the rate at other schools.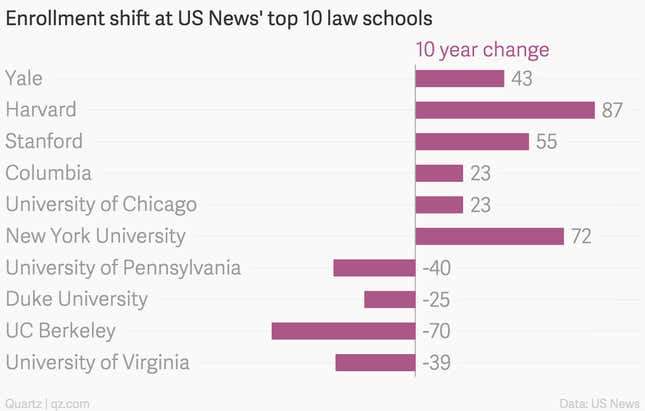 School closures, mergers, and faculty layoffs seem inevitable, and are already happening at some institutions (paywall).
Contrast that with graduate engineering programs: They're seeing a boom driven by strong job demand and high salaries. Some schools have added the equivalent of a large law program's total enrollment in new students over the past decade.