Courtesy of 007's Twitter account, the world has finally seen the official teaser poster for the new James Bond movie, Spectre. It shows Daniel Craig clad in a slim-fitting black turtleneck, the strap of a brown leather holster skirting his left pectoral.
There isn't a tuxedo or bow tie in sight. Instead, Ian Fleming's iconic creation has shed his formal attire for something decidedly more Jobsian. That's right. The spy who has thrilled audiences over the years by seducing women and killing the population of a small Texas town, all mostly while donning a tuxedo, is dressed down a bit in the first look of this latest installment. Ditch the gun and he could easily be on his way to announce the release of Apple's latest gadget.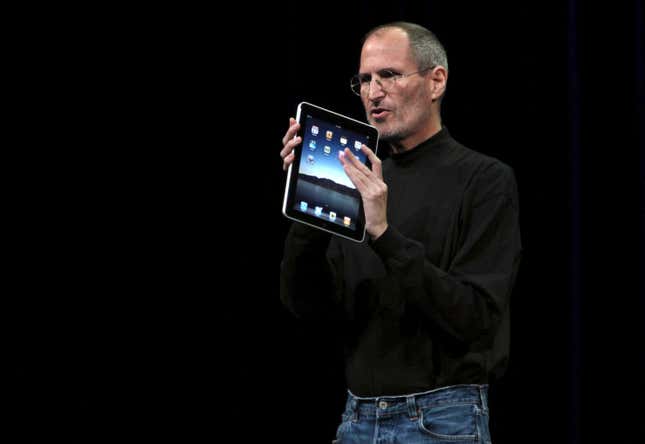 To be fair, Craig still looks pretty tough, and the black turtleneck is, after all, a classic spy look. Also, neck-covering knitwear is having a moment, and if the recent history of Bond's wardrobe design is any indication, that turtleneck is likely by Tom Ford and made of incredibly fine cashmere.
But Bond's style is so iconic that any time he's out of his tux it's noteworthy, especially when it's the first image of him in the newest movie from the multi-billion dollar franchise. Though perhaps the most dressed-down he's ever been was forty years ago, in Robert McGinnis's amazingly Freudian Thunderball poster from 1965.
Ultimately, the comparison to Jobs is a compliment to Craig. It's hard to be cooler than this guy.