Israeli prime minister Binyamin Netanyahu's right-wing Likud party swept yesterday's election, defying expectations. With 99.5% of the votes counted, the party picked up 29 to 30 seats—plenty to command a ruling coalition in the 120-seat Knesset. This was after polling at 20 just three days before the election.
Israeli elections are known to be unpredictable, but Likud's turnaround was truly stunning—and attributable in large part to Netanyahu's appeals to his party's right-wing base in the days and weeks before the election.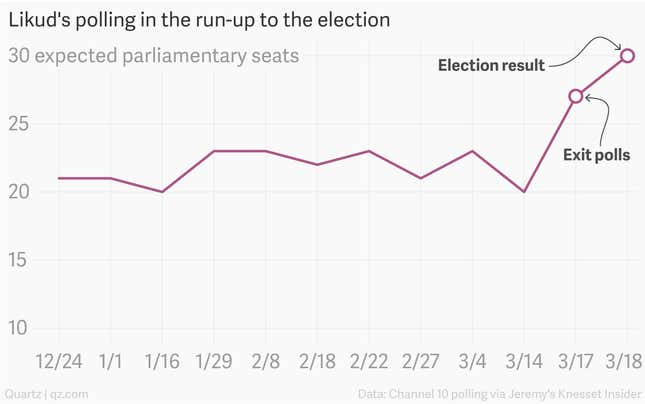 Despite the huge disparity between the predictions of several different polls and the actual results, a closer look at the trajectory of public opinion since the election was announced in December 2014 offers a useful illustration of how Bibi's strategy played out. The spikes along the way—as well as the election results themselves—show that Bibi's heightened right-wing rhetoric was a recipe for success.
The first uptick comes in the second half of January, when John Boehner, the Republican speaker of the US House of Representatives, invited Netanyahu to speak to the US Congress. The invitation, for what was expected to be a hawkish speech, scored points with the right wing back home.
As anticipated, in the March 3 address in Washington, Netanyahu took a hard line against Iran in nuclear negotiations. This gave Netanyahu another spike in polling (March 4), but with the overall worsening relations with the Obama administration and a rising rival from the left—the Zionist Union's Isaac Herzog, who was seen as a major contender for Bibi's spot—Netanyahu's prospects were looking worse and worse.
In the days running up to the election, from March 4 to 14, Likud was trailing behind the Zionist Union. Herzog had been gaining on the domestic front, where Netanyahu was failing to deal with important economic issues (paywall) such as the country's exorbitant cost of living.
And then right before the election, on March 16, Netanyahu made a move to appeal to his right-wing base, reversing earlier statements by saying that he opposes a two-state solution for Israelis and Palestinians.
On election day, March 17, he ramped up his rhetoric even further, warning his base that Arab voters were turning up in "droves" and successfully mobilizing those eager to save the right-wing government.
While unlikely to get him international sympathy, Bibi's strategy proved to be a winning one.