They say bad things come in threes. After Dilma Rousseff's last few days, she better hope that's true.
First, protests calling for her impeachment brought nearly 1 million people into the streets of several cities. Then her party's treasurer was formally accused in the endlessly exploding Petrobras corruption scandal. And now, a new nationwide poll shows that 62% of Brazilians rate her presidency as "bad or terrible."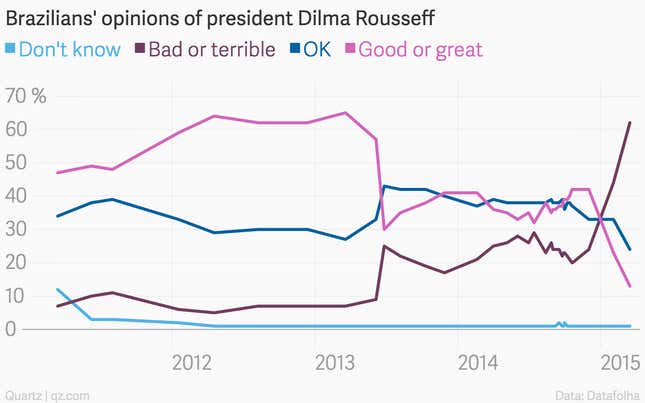 The last time a president's approval ratings were this low was 1992, just before then-president Fernando Collor de Mello was impeached for corruption. (Collor resigned after the lower house of congress impeached him, avoiding a senate trial.) Corruption is the same complaint many Brazilians wield against Dilma. They suspect she knew and benefited from the government bribery scheme at oil giant Petrobras, where she was chairwoman from 2003 to 2010.
Although Rousseff herself has not been formally charged, Collor's impeachment demonstrated how impeachment is as much a political process as a legal one—and popularity matters.  Two years after Collor left office, Brazil's supreme court found the disgraced president not guilty of corruption.
"There's some degree of subjectivity when dealing with an unpopular president," Joao Augusto de Castro Neves, a political analyst with the Eurasia consultancy, told Quartz. Castro Neves thinks Rousseff's approval ratings will have to stay dismal for a prolonged period—and a series of tricky political conditions must be met—before she truly enters the danger zone for impeachment. Eurasia puts those chances at 20%—unlikely, but not impossible.
Today, Rousseff released the package of anti-corruption measures (link in Portuguese) she promised in the wake of Sunday's protests.
"We are a government that does not compromise with corruption," she said. Now she needs the Brazilian people to agree with her.