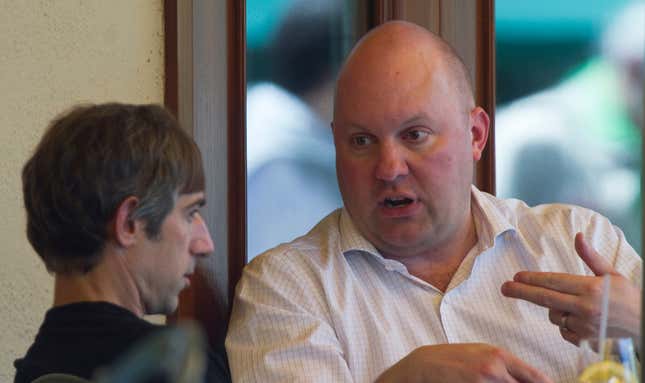 Venture capitalist Marc Andreessen had a lot of remarkable things to say at our recent Quartz event, but for all his excitement about the future of the tech sector, there's something missing from his argument that tech stocks are undervalued—returns for public investors.
Andreessen had made waves denying the existence of a new tech bubble, telling attendees at a New York Times conference earlier in the day that "the public right now hates technology, just hates technology… we're in a tech depression."
While recent tech IPOs, from Facebook to Groupon, have failed to meet the high expectations set for them, it's also clear that the tech sector is fairly well regarded by the markets. The Nasdaq has been performing pretty much identically to the Dow and the S&P 500. Other Silicon Valley investors note that new start-ups are finding funding, and IT sales are expected to grow 5% to 7% next year.  Andreessen has argued that companies like Google and Apple are under-valued compared to industrial firms with higher ratio of their stock price to their earnings, but comparing the industrial and tech sectors overall suggests that isn't a problem anymore: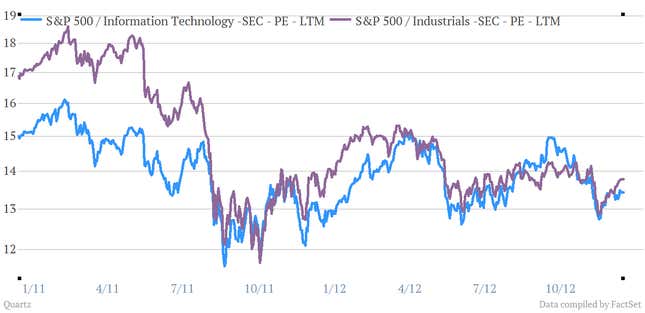 But Andreessen is right that there's not much evidence of a tech bubble at the moment. That may be why he's upset.
While he earned his tech spurs by inventing the world's first graphical browser and using it to found Netscape, today Andreessen does more financial than software engineering, through Andreessen Horowitz, the venture capital firm he founded. As an investor, he's shown real prescience with ahead-of-his-time investments in the next big thing. However, the companies he's backed don't create much value for public investors.
Consider this 2009 analysis, which noted that except for one year, when Netscape licensed its browser for $45 a pop in 1996, none of Andreessen's companies since then had actually made a yearly profit.  He hasn't made his fortune by creating profitable companies, but instead by adroitly exiting them: either selling stock after an IPO, as with Netscape, or selling cash-hemorrhaging companies like cloud progenitor Opsware or social network Ning to larger companies. Opsware is now part of troubled Hewlett-Packard (Andreessen is on the board) and Ning is part of Glam Media, an online advertising company. In short, while Andreessen's understanding of technology's potential and his own ability to make money are both unquestionable, the former hasn't necessarily always been the reason for the latter.
Firms losing money to gain market share are nothing new in Silicon Valley, and the whole point of venture capital is to invest early in a business, getting it through tough early years in the hope of eventual profit. But today, investors are showing more restraint when it comes to tech IPOs, with memories of the late nineties and the more recent object lesson of Groupon. That makes it harder for VCs like Andreessen to find a profitable exit.
Earlier this year, the Kauffman Foundation released a study [pdf] of its 20-year experience investing in venture capital, and found essentially a broken system. In most cases, venture capitalists would have earned more putting their money into an equity index fund. Most of the successful venture firms entered the market before 1995, earning returns in the bubble years, just like Andreessen. The study makes the case that venture funds are great at taking management fees from lazy investors, but not so much at producing returns.
To be sure, Andreesen Horowitz' portfolio is a who's-who of rising tech software companies, and the company's 2009 investment in Skype earned big returns when Microsoft bought the company in 2011; Facebook's purchase of Instagram for $1 billion reportedly paid back the investors in their first fund. The companies he's invested in could become huge successes, but the dependence on huge acquisitions, rather than profitability, is still in evidence.
The obvious example today is Facebook, which has yet to return to its IPO price. Investors worry that it won't be able to effectively monetize its users, especially with so many of its latest adopters accessing the site via mobile devices, where revenue is hard to generate. Andreessen's firm holds 3.9 million shares of Facebook, and he sits on its board; no doubt he and his partners would appreciate more optimism about the company's future.
But when asked at Quartz's event how Facebook would justify a return to its opening price, Andreessen said, "I don't think companies have to justify their stock prices," which is an interesting position for someone who also thinks tech companies are incredibly undervalued.
After his remarks, I asked him what he would say to an investor who's skeptical of tech stocks. Why should anyone, having seen what happened with Groupon and Facebook, invest in those companies now?
"People are depressed," he said, and they're not buying. Groupon, he said, went public too early, and against his advice—his firm sold its entire stake as soon as it could. But his argument was essentially about animal spirits: People aren't investing because of the general economic mood and bad memories of the last bubble, not because of legitimate questions about the future of many of these companies. But
Felix Salmon of Reuters criticized the Andreessen approach this spring: "In his world, buy-and-hold public shareholders are the patsies, the people left holding the bag when the fast money has long since departed. He's smart; the rest of us are chumps."
But in a market where the chumps aren't buying, the fast money has no where to go.