Given that everything Netflix touches these days seems to turn to gold, developing a new series for the streaming service might appear an relatively easy task. After all, "until they report ratings, it's going to be a home run for everyone that has a show there!" NBC Entertainment president Robert Greenblatt joked to reporters earlier this year.
But in truth, making an original series specifically for Netflix requires, as Liam Neeson might say, a very particular set of skills. That was the challenge faced by Todd A. Kessler, Daniel Zelman, and Glenn Kessler, who created Netflix's next binge-worthy series: the drama Bloodline, which debuts its 13-episode first season on Friday, March 20. The series, which is set in the Florida Keys and stars Kyle Chandler, Linda Cardellini and Sissy Spacek, shares some DNA with the trio's previous show, Damages, including flash-forwards to a murder that takes place later in the season.
While some network series like Damages and Breaking Bad have proven well-suited for Netflix binge-viewing, they were conceived to be viewed on a traditional TV schedule: one episode per week. There is an art to creating a series for Netflix's binge-loving subscribers, who frequently watch several episodes of a show in one sitting. Todd Kessler, with help from Daniel Zelman and Glenn Kessler, shared with Quartz how they tailored Bloodline specifically for Netflix's audiences:
Instead of focusing on individual episodes, think of the whole season as a layered, three-act story
Because there is less pressure for each episode of a Netflix series to stand on its own, "it allowed us to say, we're going to approach the first three episodes as the first act of our story," Todd Kessler told Quartz. "Episodes 4, 5, 6 and 7 is the second act of our story, and then 8 through 13 is the third act. So we're feeling more like, we're taking advantage of this storytelling medium, meaning you can watch multiple episodes, you can watch the whole first act at once, which is very different than a network or a cable show, unless you watch it after it's already aired. And so for us, that desire is, we can go deeper, and hopefully create a stronger bond between the audience and the characters."
That shift from traditional, self-contained episodic storytelling "is a huge thing for us," says Todd Kessler. "As opposed to feeling like, oh, in the first three episodes we have to get it all done. It's like, no, we can take our time, and approach it as you would in a feature."
Hook the audience from the start, by ending the early episodes with cliffhangers
Bloodline's early episodes, like Damages before it, end with flash-forwards that culminate in jaw-dropping twists, which should entice viewers to immediately begin watching the next episode. "Part of that is lighting the fuse for the audience to be like, 'Oh, I should pay attention, this is kind of cool!'" says Todd Kessler.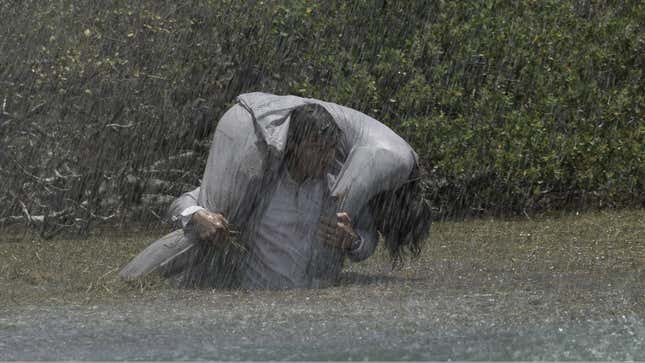 But unlike on Damages, where Kessler and his partners would utilize that device the whole season, they eventually set it aside on Bloodline after hooking audiences early on. "We let the story settle into itself, and that's something we didn't do on Damages," says Todd Kessler. "But for this, we felt like, we want to give a little flash, but then we let it go at a certain point and just let the episodes be, and then we come back to it at a certain point in a different way."
Don't worry about servicing all the characters at once
While the structure of most television shows involves A, B and C storylines that help give an entire cast something to do in every episode, the Netflix approach allowed the writers to uses their characters differently. "We're thrilled with that, because it's a large ensemble of a cast," says Todd Kessler. "And to be able to get to nuance a character, and not hit the audience over the head with it, but then let it go, and then come back to it two episodes later and realize, they may watch those three episodes in three hours. So just like in a movie, you remember who they are."
Shake up the episode format to keep things interesting
On Netflix, "we know that the show can evolve before the audience's eyes, so it's not like every episode has to feel like the same, because they're all blending into each other," says Daniel Zelman of Bloodline, which begins as a family drama and ends up as a psychological thriller. "We don't feel this need or pressure to just duplicate. If someone is tuning in every week, they want to know what they're tuning into every week, but we're more interested in the show evolving and following the characters wherever they go, and that was something that having this 13-hour format was great for us."
There's no need to repeat key information in every episode
"One huge thing for serialized storytelling is knowing that someone on Netflix will, as far as I understand, start at the beginning," says Glenn Kessler. "They're not going to tune into Week 7 because there is no "Week 7," and as a storyteller, you know that they've seen everything that you wanted them to see at that point in the story."
As a result, Netflix viewers are more engaged in every story beat. "Certainly on Netflix, people are exclusively sitting down to watch and be entertained," says Glenn Kessler, as opposed to what happens "historically: people put their televisions on and do other things while they're watching something." That means the writers don't have to worry about regurgitating basic information week after week for viewers joining in late, or who may have missed certain episodes. Instead, they can focus on fleshing out the story and the characters.
"To know that an audience is engaged, to know that you can tell densely sophisticated story and character nuance and story nuance, and that people are hungry to absorb as much of what they're seeing as they can," says Glenn Kessler, "and knowing that there's a level of engagement between episodes and that there's a retention about what they're seeing, it feels like everyone is firing on all cylinders now, both from a storytelling point of view, and even from an audience point of view." Let the binge-watching begin!