Most cars have airbags that are designed to protect passengers in a crash, but Google's driverless cars may go a step further, with airbags designed to protect nearby pedestrians.

Google is working on a driverless car that already has spent countless test hours learning the rules of the road. In a new patent awarded today to Google today (March 24), the company outlined a system for external airbags and bumpers that could deploy in the event of an accident. One idea suggested in the patent is to mount airbags on the outside of the cars, to create a buffer for pedestrians. These airbags would deploy when the car senses that a collision with another vehicle is imminent.
The patent notes that using traditional car bumpers and airbags would most likely cause a person to bounce off and injure themselves in the resultant collision with the ground. Google's solution for preventing pedestrian injuries of this sort: bumpers made out of a "visco-elastic material." While the patent doesn't specify what that material could be, it most likely would be of a consistency somewhere between that of an earplug and memory foam.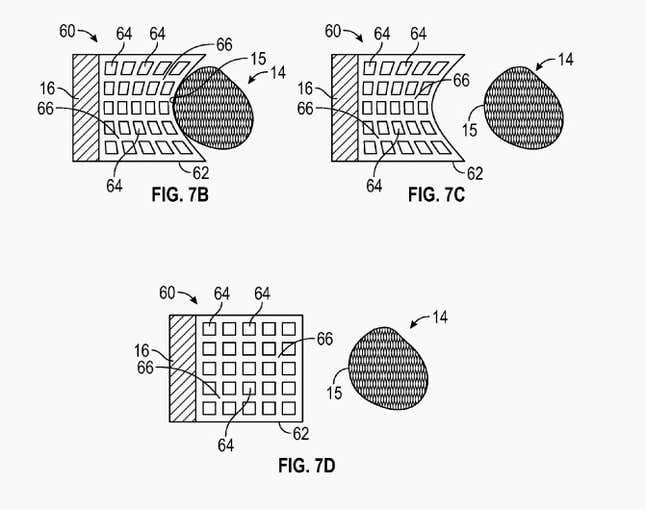 While so far there have only been two recorded incidents involving Google's cars—one when a car was rear-ended, and another when a car allegedly was being operated manually—it's not surprising that Google would want to include as many safety features as possible. Driverless cars make some people nervous. And California, the state where Google and others are testing out driverless cars, is still contending with the ethicality of the vehicles.
Google is not the only company working on external airbags: Volvo has pedestrian-sensing airbags on some of its vehicles, but they don't have the memory-foam-like bumpers behind them. It's still unclear whether these bumpers in fact will be included in Google's driverless cars; the company wasn't immediately available to comment. But the concept certainly appears to make sense as a means of protecting pedestrians. As potential parties to collisions go, we tend to be rather squishy.