A new study from the University of Vermont suggests that if you cook the recipes that you see on television, you're more likely to have a higher Body Mass Index. Lizzy Pope, a researcher in nutrition and food science, surveyed 500 American women in their 20s and 30s and found that those who cooked what they saw on TV had a mean weight of 164 pounds, while the women who just watched the shows and didn't cook had a mean weight of 153 pounds.
The US media was quick to jump on Pope's results. As Allison Aubrey wrote for National Public Radio (NPR): "These findings challenge the going belief—put forth by advocates such as Michael Pollan—that home cooking, compared to eating out or buying prepared foods, is best."
But are celebrity cooking shows really to blame for America's ballooning waistlines?
As a lover of food television, and a frequent home cook, it's not a surprise to me that people who copy the food that they see on TV gain weight. The "Barefood Contessa" television personality Ina Garten started her food career as a caterer and her Barefoot Contessa recipes reflect this background. When she makes a soup or a sauce or a cake, her goal isn't to introduce a wholesome, everyday recipe into your repertoire; her goal is to teach you to make something that will dazzle at a dinner party. Her coconut cupcake recipe, for example, yields 18 to 20 cupcakes and contains six sticks of butter, one pound of cream cheese, two cups of regular sugar, and one and a half pounds of confectioner's sugar. If you make this recipe, and recipes like it, on a regular basis, of course you'll gain weight. You may even develop heart disease, diabetes, or gout.
But that's not Ina's fault, which makes blaming her—and cooking show hosts like her—a misguided enterprise. Food television is built to entertain; it's far more entertaining to watch someone make something decadent than it is to watch them make something incredibly healthy. If US celebrity chef Guy Fieri titled his most colorful show Salad Bars, Juiceries, and Macrobiotic Diners, nobody would watch. Audiences want to see a greasy hamburger lifted off of a griddle, topped with neon orange cheese, dressed with a pink mayonnaise-based sauce, and then smothered in bacon. They don't want to see a boneless, skinless, chicken breast sitting on an underdressed kale salad.
Which is why it's incumbent on Americans to know the difference between the fantasy depicted on television and the realities of cooking at home. It's unfortunate that Aubrey cited food writer Michael Pollan in her article, because he—along with his contemporaries Alice Waters and Mark Bittman—aren't just preaching the virtues of home cooking from on high, they're doing the harder work of teaching us how, exactly, we can eat well and sustainably with our families.
Pollan's Food Rules offers explicit instruction on how to eat in America in the 21st century: "If it came from a plant, eat it; if it was made in a plant, don't." His Pollan Family Cookbook offers up recipes that are the complete antithesis of the kind you'll see on TV. Alice Waters wrote The Art of Simple Food and The Art of Simple Food II, while Bittman wrote The Food Matters Cookbook and The VB6 Cookbook (Vegan Before Six). All of these books offer a realistic approach to home cooking, designed specifically for Americans weaned on food television.
Unfortunately, if given a choice between what sparkles on TV and what lies flat on the page, most Americans choose the fattier, flashier stuff.
The real problem isn't the Food Network. It's that Americans lack a practical food culture. In Europe and other parts of world, a clear balance is struck between food that gives us pleasure (the breads, the cheeses, the pastries) and food that nourishes (vegetables, protein). US television chef Giada DiLaurentis comes from a famous Italian family and her diet—while probably not exactly what she depicts on television—is most likely informed by a European sensibility. Fresh ingredients, smaller portions. (In Aubrey's NPR article, she's quoted as saying: "I eat a little bit of everything and not a lot of anything.") DiLaurentis comes from a tradition that understands balance.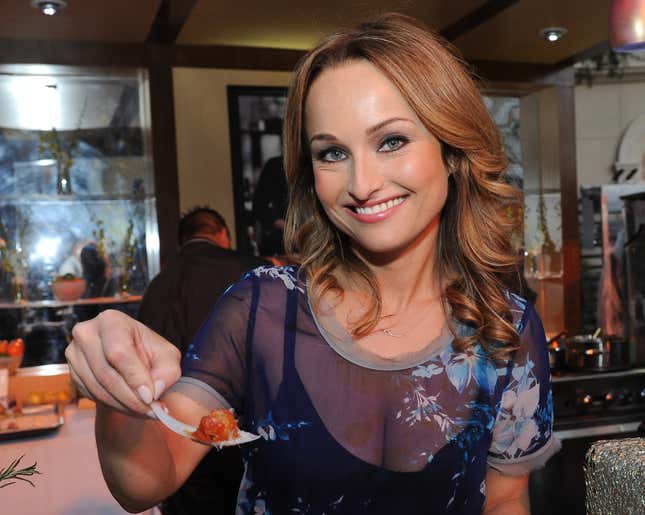 And balance, ultimately, is what Americans should strive for in their diets. It's totally fine to make that macaroni and cheese that you saw on The Pioneer Woman, but you should probably serve it with a salad. And the next day, make something a little lighter, a little more nourishing.
For those of us who—like me—don't come from a cooking family, these concepts may not be instinctual, but they can be learned. What we can't do is blame the entertainment. When seeking instruction, we've got to turn to those who'll show us, carefully and responsibly, how to feed ourselves well—not robbing us of our pleasures, but showing us how to enjoy them in a way that ensures that we'll be around to enjoy them for a long, long time.