BlackBerry's turnaround strategy—focusing on software as its smartphone business has declined—has not been pretty. But the worst may be here.
When BlackBerry reports its fourth-quarter results on Mar. 26, it could post its lowest revenue number in nine years. That's the warning from RBC analyst Mark Sue in a research note this week.
Sue predicts that BlackBerry's fourth-quarter sales could drop to $661 million, down 32% year-over-year and well below the Wall Street consensus of around $800 million. BlackBerry hasn't reported revenue that low since 2006, just as the smartphone industry was set to explode.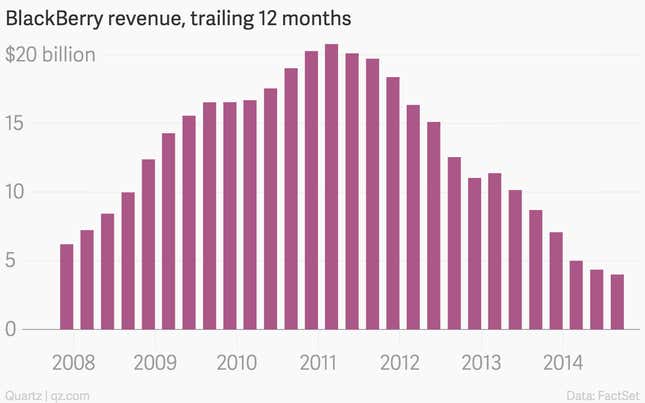 An early smartphone pioneer, BlackBerry lost its way after Apple's iPhone launch in 2007, which pushed the industry toward more powerful devices and software. BlackBerry couldn't keep up.
But the company kept growing for years by increasing its international reach and selling high volumes into emerging markets. That strategy eventually fell apart, too, leading to executive turnover, massive layoffs, and a series of comeback attempts.
Now the company could report fourth-quarter sales of just 1.3 million BlackBerry devices, Sue estimates. For context, four years ago, it shipped almost 15 million smartphones during the fourth quarter. Apple just shipped almost 75 million iPhones last quarter.
BlackBerry's software business offers some hope. Growth there and a rejuvenation of the hardware business have Sue projecting a modest rebound this year, estimating sales above $700 million for the next four quarters, and a gradual return to profitability. "A bottoming of revenues may be a rebuilding point," he writes.