High-speed frequency traders, which use computer algorithms to trade stocks milliseconds faster than competitors with little human intervention, are about to come under much more scrutiny, if the US Securities and Exchange Commission gets its way.
The firms have come under fire for manipulating the stock market, making it less transparent, more volatile, and an impossible place for mom and pop investors to get a fair shake. The practice gained broad attention with last year's publication of the Michael Lewis book Flash Boys.
Under an SEC plan proposed on March 25, the agency said it would now require high-speed trading firms to follow the same rules as other financial firms, namely registering with and opening their books to the Financial Industry Regulatory Authority, the Wall Street regulatory agency also known as FINRA. Currently, high-speed traders that conduct business for their own accounts aren't required to register with FINRA, meaning they can't be traced back to, say, a large volume of suspicious trades.
Rules overseeing broker dealers were made at a "time when our equity market structure was dominated by floor-based exchanges that could readily regulate all of their members' trading activity," SEC chair Mary Jo White said in a public statement about the proposed rules.
"That is not our market today. Trading is now dominated by computer algorithms," she said, noting that prop trading firms now account for nearly half of all orders sent to alternative trading systems.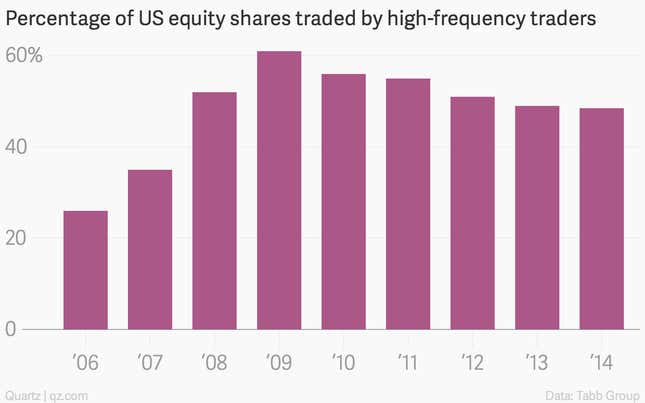 It could take a while for the rules to come into effect, as the SEC will have to solicit feedback from market participants and fine-tune any new regulations. There is also always the fear of regulatory overreach.
But the decision to move forward on changing the rules marks a stark recognition that the world of Wall Street has drastically changed in the past decade, and the regulations surrounding market structure have fallen incredibly far behind.