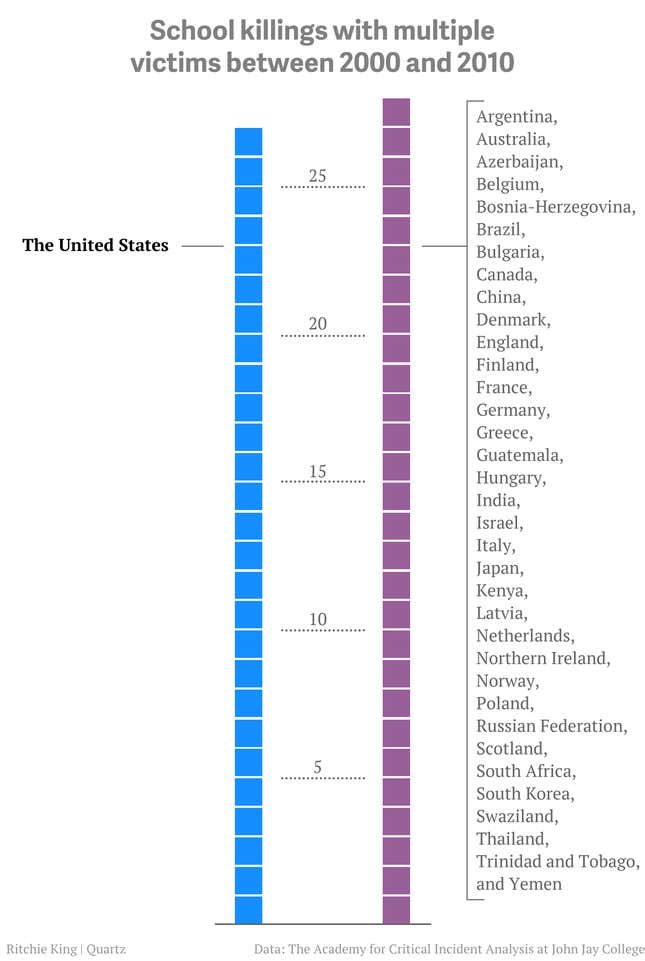 A mass shooting at an elementary school in Newtown, Connecticut, has—as of the most recent police statements—resulted in the deaths of 27 people, including the gunman. Twenty of those victims were children.
The Academy for Critical Incident Analysis at John Jay College has collected data, compiled from news reports, on 294 attempted or actual multiple killings on school grounds that had two or more victims. The data span 38 countries and nearly 250 years, from 1764 to 2010, and do not include "single homicides, off-campus homicides, killings caused by government actions, militaries, terrorists or militants."
We tried to limit any effects of possible underreporting of cases by limiting the data set to the most recent ten years of data, between 2000 and 2010, and by counting only incidents in which someone was injured or killed. (Limiting the data to 2000 or after also eliminated one country that no longer exists: Austria-Hungary.)
The results are above. The number of such incidents in the US was only one less than in all the other 36 countries put together. In 13 of those countries there were no incidents at all, either actual or attempted.
In 2010, the US was home to a population of approximately 309 million. The populations of these other countries totaled 3.8 billion.
In the vast majority of US killings, perpetrators used guns. By comparison, China—with the second-greatest number of incidents—saw 10 mass killings, but none involving firearms. Germany saw three mass shootings; Finland saw two. Thirteen other countries each saw one incident with at least one person being wounded or killed; in the rest nobody was reported as hurt.