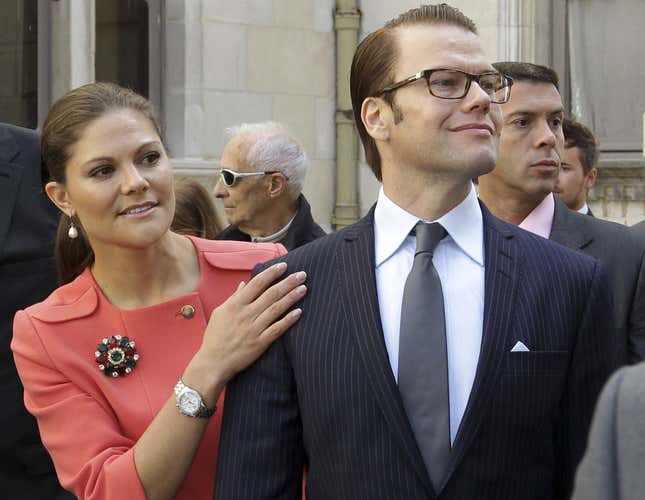 Although Sweden, a bastion of the welfare state—where second-wave feminism won perhaps its clearest victory—ranks at or near the top of almost every gender equality index, its women still lag far behind their male colleagues when it comes to rising to the top management or board positions.
In 2011, women made up just 28% of the managers in the private sector. And while the numbers are slowly going up, it will take 27 years before the share of female board members reaches 50%, and 52 years before women make up 50% of company management positions.
This makes the Scandinavian country about normal for industrialized Western countries, says Linda Haas, a professor of sociology at the Indiana University-Purdue University Indianapolis, who has long focused her research on the Swedish workplace. But while Sweden might be normal in the private sector, it is a standout in the public sector, where "gender mainstreaming" is the norm and where women make up 45% of the parliament and a stunning 64% of managers.
And it's this stark disparity that infuriates many Swedes. If the government can make it work, why can't private business?
"Sweden is supposed to be the most equal place in the world, but it's not," she says Michaëla Blomquist, the CEO of an executive search firm and a board member of AllBright, an organization committed to equality in the private sector. "The percentage of women on executive management teams in listed companies is 13 percent.  If you take out HR and communications, it is down to seven percent. Thirty percent of the companies had not one women on their executive management team.  Really?  Can we not find more women?"
So what gives?  Well, it's the same old story:  women take time off for children, husbands won't—or are not allowed to by social and business norms—do their share, and grinding corporate cultures are not built for a work/life balance.  Decades of pushing towards a more equal gender balance simply hasn't moved the corporate needle far enough yet.
"Work organizations (in Sweden) tend to be organized around gendered principles, that assume that women are caregivers, men are breadwinners, and that work should come first," Haas says. "These assumptions tend to discourage women from management positions and men from taking leave."
In fact, Sweden has one of the most gender-segregated workforces in Europe, and women take 75% of parental leave and work part-time more than three times as often as men. Women still do the bulk of household work and take significantly more time off with sick kids than fathers do. The situation is stark enough to inspire a recent newspaper series from one of Sweden's two national newspapers with a front page headline of the "mom trap."
Why?
Some studies point to the welfare state itself and the very policies that ensure women's participation in the workforce. Sweden offers 480 days of parental leave per child, including rules that force men to take 60 days of that leave.  There is cheap high-quality child care, paid time off with sick kids and the legal right to work part-time. One argument says that these policies allow women to balance traditional family duties and a regular job more easily but fence women off from the executive suite because high earning Swedish women don't have access to the household help that, say, top Americans do.
Both Haas and Blomquist explicitly reject that reasoning, insisting that benefits get women into the work market and keep them there. Instead they point to something far older and more entrenched in the executive suite:  a clubby culture of male dominance.
"The problem with an engineering or economics degree (in Sweden) is that you still need to play golf and hunt elk to advance," Blomquist says "This was being challenged when my generation was in school, and we got ahead, and then we stopped … A woman in finance or a law firm is in a career driven by competition or face time, and (with a family) she doesn't have the time to put that in."
Men in Sweden take more parental leave, by far, than anywhere else in the world—almost 25%—and by most accounts are doing more and more picking up kids at school or cleaning around the house. Yet few ambitious high-earning men make truly structural changes to their lives and careers. The stereotypical Swedish professional couple instead has the man on two months paternity leave but then returning to work full-time while the woman dips down to 75%.
"Efforts to promote individual women won't help much," Haas says. "Some women will get in but they will have to act like men to stay there.  And men already in management will still have to put in long hours and not be with their families.  Equality in this sense wouldn't be much progress."
True change would require a paradigm shift in the global corporate culture. It would mean rethinking whether senior VPs – male or female – need to work 12 hour days and travel every other week.  Even an article in the Independent Review – the journal of the conservative-libertarian think tank The Independent Institute, concluded: "the best way to assure an increased presence of women in top executive positions [in Sweden] is to make career paths more compatible with child rearing."
So what about quotas?
The European Commission earlier this year postponed a proposed gender quota of 40% for corporate boards by 2020. The proposal by Viviane Reding, the commissioner for justice, caused a serious rift among commissioners with strong support from France and Italy and fierce opposition led by the UK.
Quotas are already law in EU countries like France, Spain, Belgium, Denmark and Italy. In Norway, outside the EU, a 2003 law mandated that 40% of board members are women. The Norwegian law has been hailed by supporters and the press as a success, even if it hasn't led to a corresponding rise in the number of female executives, with critics also charging that companies are either appointing the same small group of women or women with less experience.
But both Haas and Blomquist say quotas are not the answer, given that the roots of the problem are embedded in culture, social structure and corporate attitudes.
"People need to take responsibility," Blomquist says. "And they can't do that if they let the government handle it.  What I need to do is convert very influential men. A CEO who highlights the question makes a huge difference."
What seems to set Sweden apart—both in its achievements and in the frustrations over a lack of progress—is the fierce commitment from broad swathes of the population towards equality.
So even when the country is breaking thousands of years of tradition in getting men to take a quarter of parental leave, it feels stuck because it's not changing fast enough. Haas brings up a Swedish phrase translated as "in principle and in practice" that is often mentioned in situations like this.
But it is this very commitment that has brought women so far in the Swedish public sector, and that drives women like Blomquist to fight for equality. She doesn't want to wait 52 years for corporate gender balance. She sees the issue as key to small Sweden competing in a globalized 21st century.
"In the government sector, they care.  In this sector, they don't care," Blomquist says. "The answer is that we need to wake up and live in a global world."