Social media has been a pretty heartbreaking place for the last 24 hours. Photos of stricken teachers keeping a line of terrified children in single file. Parents running to find their children—and those still waiting. In between, a steady stream of scoops: The killer is 24 years old. No, he's 20. His name is Ryan. No, it's Adam. His mother worked at the school. No, she didn't.
But could it be that the best commentary on this moment in American history is from before the carnage even began? Here's a look at three tweets that suddenly mean so much more:
1. The National Rifle Association. The leading advocate of the right to bear arms has not updated its Twitter feed since Dec. 14. Its last tweet was to promote Day 4 of a 10-day sweepstakes with the chance to win an auto-emergency kit. No word on when, and if, Days 5 through 10 might resume.

2. ESPN. The sports network is watching its language, banning the term "pistol formation" during today's bowl game, for example. Tomorrow's lineup of pro games is not to be called "Showdown Sunday." Perhaps most meaningfully, ESPN (with headquarters just 30 miles from Newtown, the site of the school shootings) has asked broadcasters not to tweet about sports until tomorrow. Its own last tweet is also from Dec. 14:

3. Sandy Hook Elementary School's Dawn Hochsprung. The school's principal has been hailed a hero. She died yesterday—but not before turning on the intercom to warn people and running toward the gunfire herself. Her legacy includes a Twitter feed that exudes enthusiasm for education: music concerts to early dismissal, iPad education apps to the Sandy Hook book fairy. Her last retweet was on Dec. 13: a Harvard Business Review blog about beating stress. And here's her last original tweet: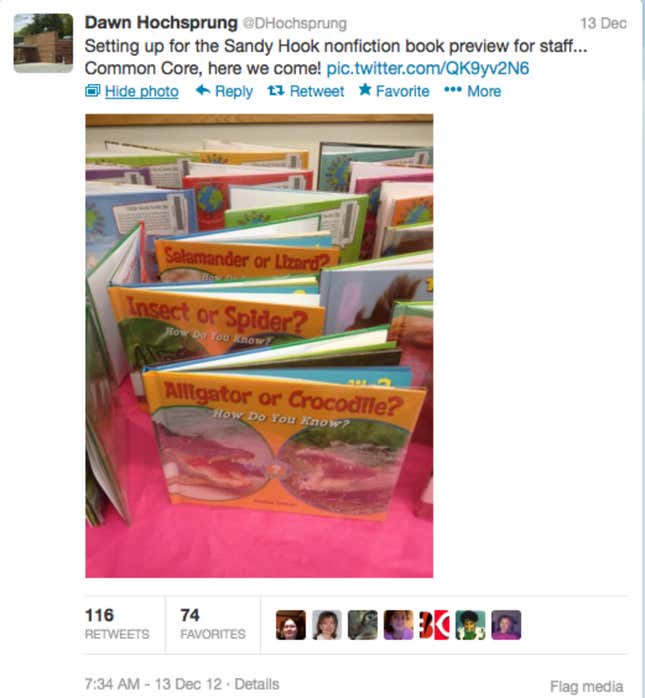 She's referring to new federal standards in English and mathematics, and as many educators might attest, excitement for them is rare. But as the stream of profiles of the principal now assert, Hochsprung was a rare educator, tough and loving. "She was the kind of person you'd want to be educating your kids. And the kids loved her," one friend told CNN. Hochsprung appeared to hold herself to the same standard: She had just enrolled in a PhD program.