Seven years after the global financial crisis prompted people to pay down their debt, Americans say that banks are starting to make it easier to run up their credit cards again. Meanwhile, getting a mortgage is becoming an even more uphill battle.
The number of applicants for credit cards, card limit increases, mortgages, and auto loans remained steady over the past year and a half, but rejection rates across all loans dropped to 25% in February, from 30% last October, according to new data from the New York Fed's survey of consumer expectations.
The survey, which asks 1,200 Americans if they have applied for a loan in the past 12 months, shows it's getting easier to get a loan, even as rejection rates vary by loan type.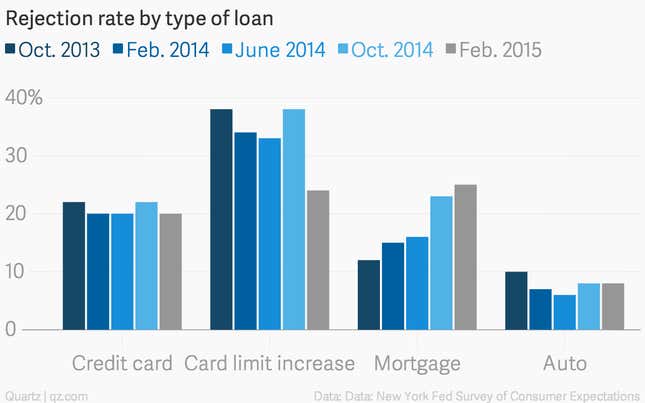 That's good news for people looking to increase their credit card limits. Rejection rates for new credit card applicants has remained steady, but rejections have plunged for people asking for card limit increases. The number of people who asked for a limit increase and got rejected dropped to 24.3% in February, from 38.5% last October.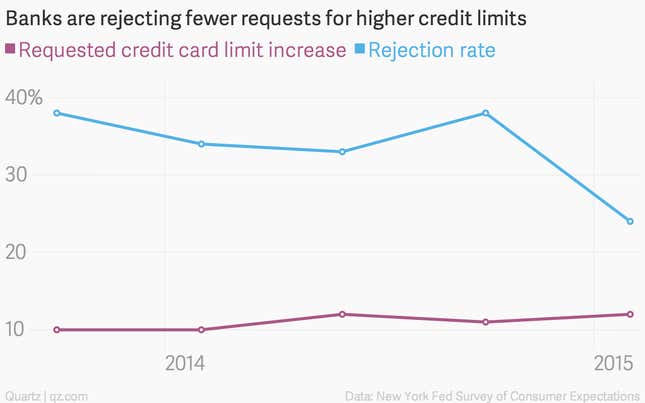 But the number of mortgage applicants who got rejected continues to rise. Now, nearly a quarter of people who apply for a home loan are getting rejected, up from 15.1% from a year before.