They're impeccably hip, located in buzzing, central locations a stone's throw from a (fair trade) coffeeshop. And they attract interesting, often high-profile people: Etsy founder Chris Maguire, Brainpicker's Maria Popova, and Facebook co-founder Chris Hughes have been spotted at one in New York.
Coworking spaces—where entrepreneurs, freelancers, and other independent workers come to work—are booming business. Currently, over 160,000 people worldwide are members of more than 3,000 coworking spaces, according to research from DeskMag.com. In 2010, there were just 500 spaces, accommodating around 20,000 workers. WeWork, a coworking space provider which dubs itself the Uber of the industry, plans to grow to over 50 locations this year and has recently been valued at $5 billion by investors (up from $1.5 billion earlier in 2014).
With this flourish of coworking spaces you might be wondering where to go and how much to spend on a desk. We've compiled a guide of some of the hottest places around the world for different types of digital nomads.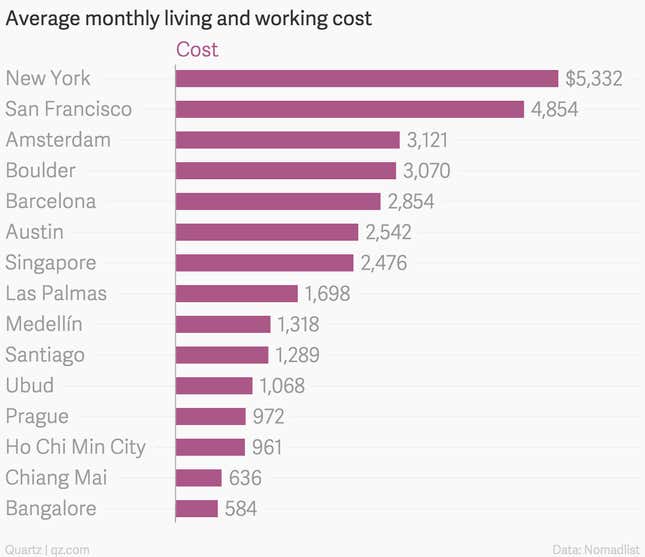 Asia
Chiang Mai
It's one of the best destinations for digital nomads who are seeking a winter escape. $636 is sufficient to cover living and co-working costs, says Nomadlist.com, which gathers data on the cost of remote working around the world. Access to a cool coworking space like Punspace and Guru's Box costs $106 monthly. On weekends you can hike up mountain temples, go to an elephant or tiger sanctuary, or indulge in the numerous health and wellness options on offer.
Bangalore
This is one of India's buzziest cities and a major IT hub. You're covered for $584 per month—$104 of which goes into costs for a coworking desk. Cowork spaces include Cowork Cafe, where, according to the website, the average age is 26, and Cobalt BLR.
Other good digital nomad options in Asia include Ubud (Bali), a favorite with wellness seekers where you're covered for $1,068 monthly ($232 for a coworking desk), or Ho Chi Min City (Vietnam), if you're craving the energy and chaos of a large city where costs are up to $961 per month ($93 for a coworking desk).
Singapore
It's currently one of Asia's number one tech hubs. Here, a slew of coworking spaces are popping up, with over 24 offices spread out over the city. Some of these even come with a swimming pool, spa, or serve—yes—oysters. Approximate living and working costs in Singapore comes to $2,476 monthly, of which $218 covers monthly coworking space costs. Good options: Egg, Hubquarters.
Europe
Except for the more obvious startup hub choices like Berlin (monthly costs: $2,887, $175 for a coworking desk) and London (monthly costs: $4,052, $297 for a coworking space rent) you might also want to check out:
Amsterdam
(The Netherlands)
Recently, Amsterdam was rated one of the startup hubs to watch due to its liberal tax laws and high rate of English fluency. Average monthly costs stand at $3,121 ($262 for a coworking desk). Wework recently opened up its second European coworking space here (London was the first) just off the cities' famous canals, which are worth checking out. Another cool, upcoming coworking space is B Amsterdam located in what used to be the IBM headquarters. The space has a rooftop garden where members can grow their own plants, and retro cars function as phone booths.
Barcelona
This city has been tipped as a startup hub to watch. Here you can go for a swim in the Mediterranean in the morning, meet investors during the day, and indulge in the cities' buzzing drinking and dining scene at night. The coworkers hub scene started to flourish here after the economic downturn. Average monthly costs: $2,854, includes $218 for a coworking space. Recommended: Makers of Barcelona, a coworking space in a former textile factory with a 3D printer, and Betahaus.
Prague
Currently, Prague is one of Europe's most popular digital nomad destinations. Not only are living and working costs low here ($972 monthly—$155 of which covers coworking space costs), it is also praised for its cafe culture. Franz Kafka, the novelist, and Antonín Dvořák, the composer, used to hang out in various coffee shops—and beers go for $1.50. Good coworking space options: Impact Hub, Locus Works, Desk Room Prague.
Las Palmas 
Las Palmas is great if you're craving beach life, the outdoors, and tax-free beer. The climate on this Canary Island is rated one of the world's most pleasant with winter days where it can get up to 20 °C (68 °F). Costs: $103 monthly gets you a desk in a coworking space such as La Fabrica555 or CoworkingC.
South America
Medellín 
What used to be known as as Pablo Escobar's cocaine capital is now a favorite with digital nomads because of its cheap lifestyle and its reputably beautiful people (read: women). If you want to work from here, you're covered with $1,318 a month—$158 for a coworking space desk. Check out Atomhouse as a coworking space.
Santiago
By the stunning backdrop of the Andes lies one of the "most foreign-entrepreneur-friendly cities on the planet and a test bed for launching into Latin America," according to Inc. Average monthly costs: $1,289, $196 of which goes into coworking space costs. Check out: Movistar Innova Center, Chile's largest coworking space, Cowork and Conectas.
The US
Apart from the top choices like San Francisco and New York, where average monthly living and working costs amount to $5,332 per month, and you pay top dollar for a desk in a coworking space ($570 in San Francisco), another good option for digital nomads is Boulder, Colorado. This idyllic mountain city up in the Rocky Mountains is dubbed an entrepreneurial powerhouse. Go here if you have a mad crush on the outdoors. You're covered for $3,070 monthly, $350 of which goes into coworking space costs. Work at: Spark or Colab Boulder.
Austin
Texas' hippest music center is now also a hub for tech types, not just because of SXSW, the sprawling music, technology, and film festival that takes place here every year. Austin is one of the world's most coworking-dense cities with about 15 spaces around the city. Although monthly living and working costs are considerably higher than any of the above options, in comparison to other US cities like New York or San Francisco, Austin is a more affordable option. $2,542 covers average living and working costs, with $200 as the average monthly cost for a coworking space. Good options: Vuka Austin and Capital Factory.