Collectors come in many forms. Some are bespectacled, cardigan-clad ladies who fill their display cabinets with painted teacups, or mustachioed, white-haired men with a thing for pocket watches. And then there are people who collect sneakers.
Sneakerheads, as these avid, obsessive sneaker collectors are called, don't consciously try to be of the same breed as those who fixate on Roseville pottery or antique clocks. But when it comes down to it they're basically the same: relentless in tracking down the items they want, extraordinarily knowledgeable about their field, and addicted to collecting.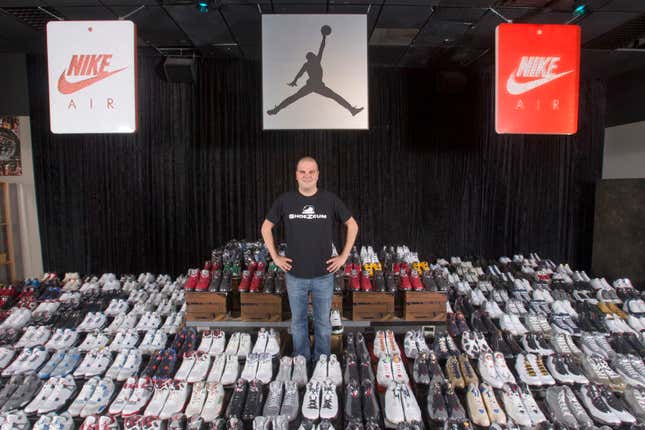 Jordan Geller, who in 2012 was recognized by the Guinness Book of World Records for having the world's largest sneaker collection with 2,388 pairs, started amassing sneakers in part because of his antique-obsessed parents. "They were collecting Roseville pottery, and they were spending their weekends going antique shopping to these little small towns that were known for their antique stores," he says.
At a family gathering Geller overheard a relative recommending a site called eBay to his parents for their own searches. That night, he looked to see if he could find any of the sneakers he wanted as a kid but couldn't afford. They were all there, and he was hooked.
Sneakers are produced and consumed so widely that they lack the rarefied air of other collectibles, but among an informed group of fanatics, they're increasingly treated as such. Sneaker reselling is now a $1 billion business, and the most sought after sneakers, such as the Nike Air Yeezy 2 Red Octobers, routinely fetch thousands of dollars online (the original retail price was $245). Any sneaker worn by Michael Jordan goes for much, much more.
"Consumers are starting to value sneakers in the same way as many think of art," Marcelle Parrish, eBay's head of fashion, tells Quartz. Parrish would know—eBay is where many sneakerheads live these days. (Collectors should beware because even stored sneakers don't always age well.)
People have even brought sneakers in to be appraised on American television's premier destination for all things collectible, Antiques Roadshow, according to the show's executive producer, Marsha Bemko.
"I have seen sneaker collectors because that is a hot little area now," Bemko tells Quartz. Sneakers haven't been featured on air yet, as each show receives 10,000 to 12,000 items and only 100 or so get on camera, but sneakerheads have been there mingling with the hoards of delicately rendered Dresden figurine collectors.
Casual admirers of any object, from sneakers to tea cups, become hardcore collectors when they begin noticing subtle details that mean a lot to them, says Bemko. "Suddenly they're the ones who notice that the handle is curved slightly different, or the flower is painted slightly different, and that makes it so much better."
But the real allure goes beyond the item itself. "People are turned on by the stories the objects carry with them," Bemko says.
That's especially true for sneaker collectors, says Geller. "Shoes stand for stories, and history, and innovation, and what athletes did in those shoes," he says. "They definitely remind people of the past and the time that they were originally issued—that's at least for the retro sneakers. The new stuff is just building on the old stuff, and it's just so cool that once you're wrapped up in this sneakerhead web it's just impossible to stay away."