The numbers: Net profit at the Chinese telecom company rose 32% to 27.9 billion yuan ($4.5 billion). The company expects about 10% annual growth in sales revenue over the next three to five years. It plans to spend about $60 million (paywall) on 5g technology this year, after ramping up research and development spending by almost a third last year to $6.6 billion.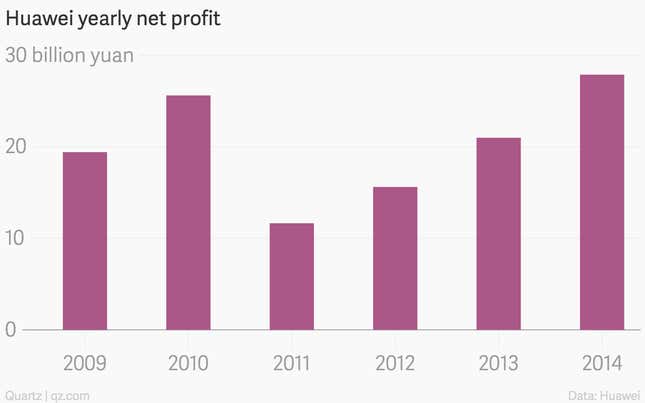 The takeaway: Huawei, one of the world's largest suppliers of telecommunications equipment, is finally starting to become a household name in some parts of the world. Sales in Huawei's consumer business, which is mostly smartphones, rose 33%. Huawei smartphone sales in China and emerging markets elsewhere, pushed the company to number 4 in terms of global shipments and marketshare last year, behind Samsung, Apple, and Lenovo-Motorola. The brand was ranked 94th, ahead of Heineken, Pizza Hut, and Hugo Boss, on a list compiled by the consultancy Interbrand.
What's interesting: Huawei is leading a "new industrial revolution," according to chief executive Ken Hu (paywall), who said the company will be focusing more on how to incorporate wireless internet technology with industries like banking or agriculture. This fits with premier Li Keqiang's recent campaign to promote online banking, mobile internet, and e-commerce or "internet plus," as he said in a speech last month.
Huawei was founded by a former People's Liberation Army officer and barred from American government contracts after being labeled a security threat by US officials. Now the company may finally be catching a break. British regulators concluded last week that Huawei equipment poses no threat to the country's national security.