Mercedes-Benz, best known for luxury cars, now wants to make pickup trucks.
"The midsize pickup segment is currently undergoing a transformation worldwide," the company said in a press release, indicating it would release its pickup before the decade is out. "More and more pickups are being used for private purposes, and commercial as well as private users are increasingly asking for vehicles that have car-like specifications."
It's a good theory, even if a premium automaker entering a distinctly utility-driven segment makes for a strange combination. It might even make sense if Mercedes planned to sell its new vehicle in the US, where a pickup is the most popular car in the country, and the segment accounts for 14% of all light vehicles sold, according to IHS, a big research firm.
But Mercedes-Benz is eschewing the US market. It initially intends to sell only in the Latin American, South Africa, Australian, and European markets.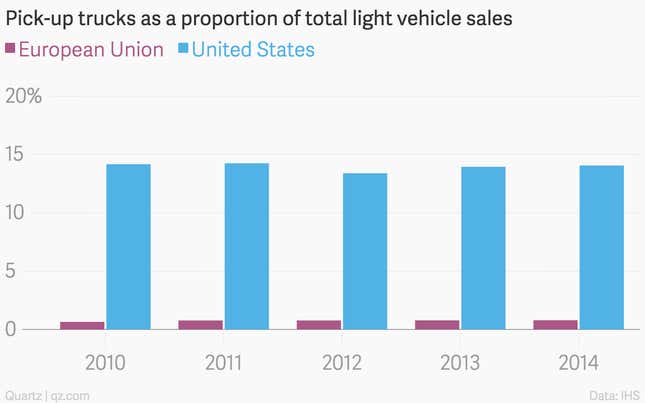 On the face if it, this is baffling. In Latin America and South Africa, the volumes will go to cheaper makers, such as China's Great Wall or India's Mahindra & Mahindra. Anything with a three-pointed star on the grill is automatically perceived as premium vehicle, says Carlos Da Silva, an automotive analyst at IHS. Mercedes will therefore be consigned to a niche market.
The market in Europe looks hardly more promising. Last year, Europeans across the 28 EU states together bought fewer than 150,000 pickup trucks. American bought more than 2.3 million. But that may be precisely why Mercedes is looking at its home markets.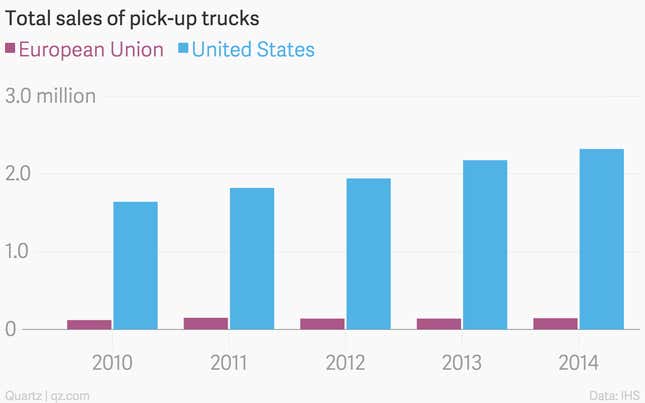 "To get things moving in mature markets like Europe, you need to explore every corner of the market," says Da Silva. "Even if you're a premium manufacturer."
Indeed, Mercedes has as much as said that it is going to try to create a market for pickup trucks in Europe: The company says it is "the first premium manufacturer to respond to this market shift by developing its own pickup," citing the example of the "successful introduction of the M-Class around 20 years ago. As the first sport utility vehicle (SUV) from a premium manufacturer, the M-Class completely redefined the segment."
But introducing new segments isn't always easy. Ford launched a Lincoln-branded "luxury pickup truck" in the United States in 2005. It stopped making it in 2008.