Chinese smartphone maker Xiaomi today showed off new connected products for the home, including an ultra-affordable smart scale. It also introduced its cheapest smartphone yet.
Since its launch in April 2010, Xiaomi has grown at a fevered pace. It became China's largest smartphone vendor at the end of 2014, with 13.7% market share, up 150% from the year-ago period. Apple currently trails Xiaomi in China; its market share there is 12.3%.
The products Xiaomi unveiled today will be available first in China. Though the company has its eyes on international expansion—in 2013, it hired away former Google executive Hugo Barra to lead this charge—it has not given any indication as to the availability of its new products in other countries. In February, Xiaomi said it planned to launch an online store in the US this year to sell accessories, including its new fitness band, but the store won't carry its smartphones.
The new Mi Smart Scale is a reflection of Xiaomi's focus on home and health products. Outside of smartphones, the company's product portfolio includes an air filter, security camera, fitness tracking band, smart light bulb, and connected blood pressure monitor.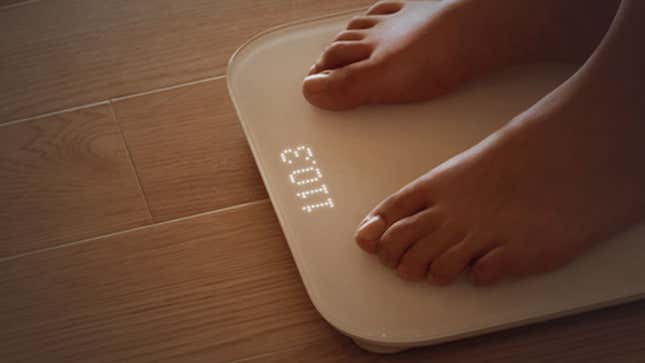 Similar to smart scales from Withings and Fitbit, Xiaomi's version tracks weight and body mass index with a smartphone app—but it's a lot cheaper. At 99 yuan (about $16), it's a fraction of what Withings and Fitbit charge for their scales ($100 to $150).
Because it works with iOS and Android, users won't need a Xiaomi phone to make use of the scale's Bluetooth-enabled functions. The scale is also compatible with the company's fitness tracker, the Mi Band—both of which are made by Chinese wearables startup Huami, which Xiaomi has a stake in, according to the blog Tech in Asia.
Here's are the other products Xiaomi announced today: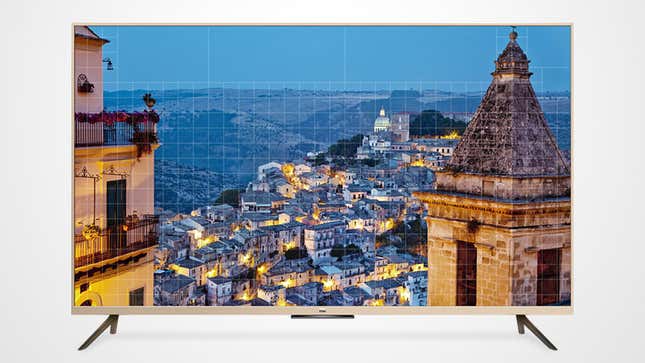 Mi TV 2: Xiaomi's follow up to the Mi TV, a 47-inch, 3D TV introduced in 2013, is the Mi TV 2, a 55-inch set with 4K resolution. Manufactured by Samsung, the TV sports a 6mm bezel, wireless sound bar, and aluminum subwoofer. The company hasn't mentioned what operating system will power the internet-connected TV, but it will support multiple media formats, including MP4 and MKV. The Mi TV 2, available now in China, will retail for 4,999 yuan ($800).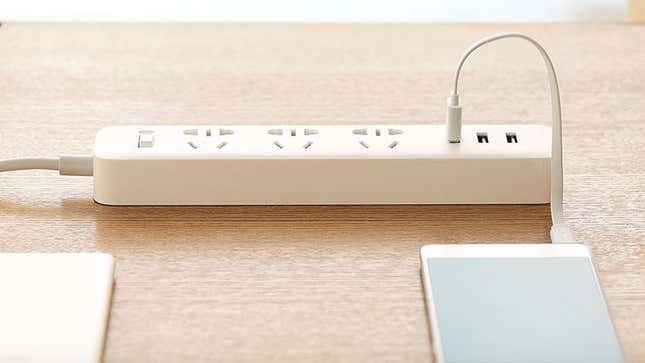 Mi Power Strip: Xiaomi designed its power strip to have a smaller footprint and charge up devices over USB. It costs 49 yuan ($8).
Redmi 2a: What Xiaomi's best known for are cheap phones that don't compromise specs. Its Redmi 2a is just that: a more affordable version of its entry-level Redmi 2. It has a 4.7-inch display, 1.5 GHz Leadcore processor (a low-cost chip powering the phone), 1 GB of memory, and an external battery pack for charging—all for 599 yuan ($97).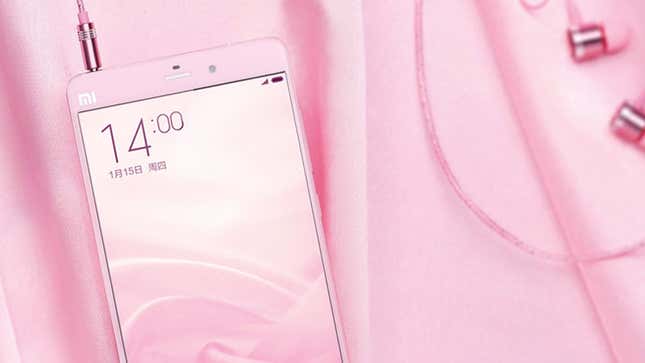 Mi Note Pink Edition: Also announced at today's press event, Xiaomi's flagship phone, which retails for 2499 yuan ($403), is now available in pink.