In 2014, at least 2,466 people were sentenced to death in 55 countries, and at least 607 people were executed in 22 countries, according to the Human Rights organization Amnesty International's annual report on the death penalty.
The number of death sentences increased 28% since 2013, when 1,925 people were sentenced to death in 57 countries. This increase was largely due to mass death sentences of terrorists in Nigeria and Egypt.
Still, the number of executions actually carried out decreased since 2013, when 778 executions were reported in 22 countries. Globally, 19,094 people are estimated to currently be under death sentences.
Here are the countries that carried out executions in 2014, excluding North Korea and China. In some cases, the number given is the minimum confirmed number—there may have been more. In other cases, such as for the US, the number given is believed to be accurate.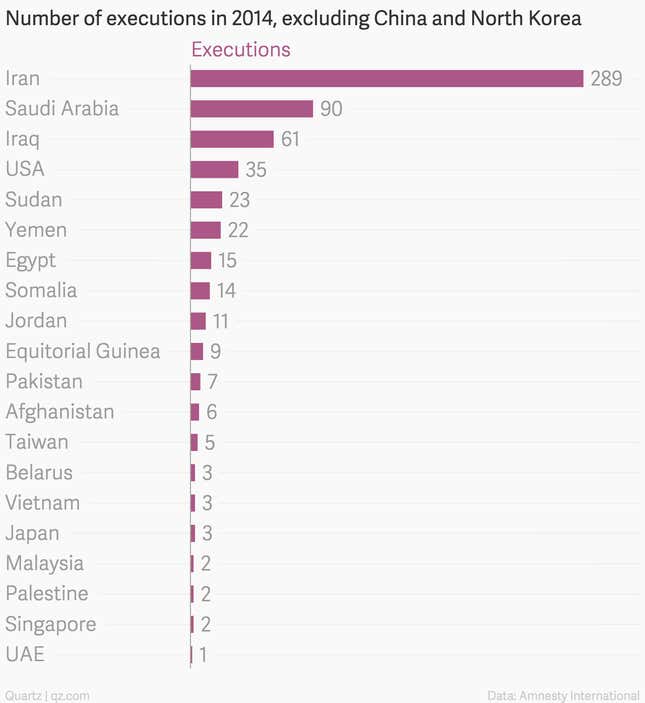 Executions are considered state secrets in China, where more executions are likely carried out than in every other country combined. Amnesty counted 1,718 Chinese executions in 2008, the last year it attempted to gauge the country's execution rate. It estimated that the actual number of executions was higher.
There is limited information available on executions in North Korea. Based on the most credible sources it was able to attain, Amnesty believes at least 50 executions took place in 2014, though it was unable to verify this number. It estimates the true number is far higher than this, given that the confirmed executions were carried out for such minor offenses as "watching banned foreign shows and films."
Overall, the world appears to be moving away from capital punishment. Twenty years ago, about half as many countries had outlawed the death penalty as have today, and twice as many countries actually carried out executions.