Masked gunmen stormed a university in Garissa, a town in northeastern Kenya before dawn this morning. The gunmen singled out non-Muslims and took hostages, in the end killing 147, officials say. A spokesman for Somalia's al-Shabab militant group claimed responsibility for the attack. Out of 815 students, 587 were rescued and 79 were injured.
The security operation has ended.
The government said the mastermind of the attack was Kenyan-Somali al-Shabab official Mohamed Kuno. BBC reports he previously served as the headmaster of an Islamic school in the same town. He quit in 2007.
In 2013, the group cast its deadly sights on Nairobi's Westgate shopping center, which was frequented by expats and rich Kenyans. The death toll of that attack was 67. This time, they targeted a poor, pastoral area about 200km (120 miles) from the border with Somalia that is home to many refugees fleeing the country's long-running conflict.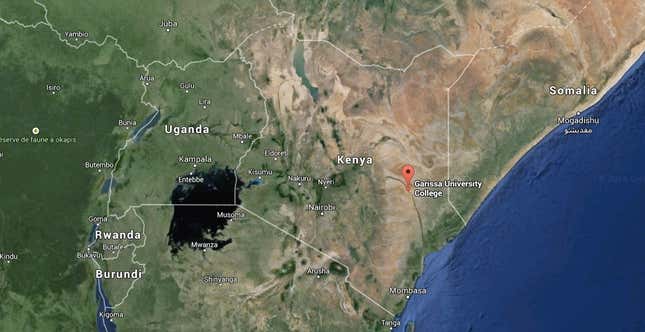 Garissa University College is the region's only higher education facility. Only 6% of Garissa county residents have attained secondary level of education or above, according to the Kenya National Bureau of Statistics; more than half live below the poverty line.
Kenya's northern border areas have increasingly come under attack by al-Shabab in retaliation for Kenyan troops entering Somalia in 2011. Over the last two years, 312 Kenyans have been killed by the militia group, including 38 in Garissa, according to police data.
In late March, the United Kingdom issued a travel warning warning its citizens to avoid Kenyan coastal resorts due to a threat from Al-Shabab. Australia also issued a warning, citing the possibility of an attack.