The rise of two strikingly similar mobile live-video streaming apps—Meerkat and Periscope—has recently provided a thrilling little competition.
Meerkat, an experimental spinoff from a failing video startup, launched in late February. It built steam as its audience evolved from early-adopter-types to Hollywood celebrities, attracting more than 500,000 users.
Periscope, a startup that Twitter had acquired earlier this year, exploded onto the scene last week. Periscope fed on Meerkat's buzz to quickly leapfrog it in popularity, as measured by tweets with links to each service.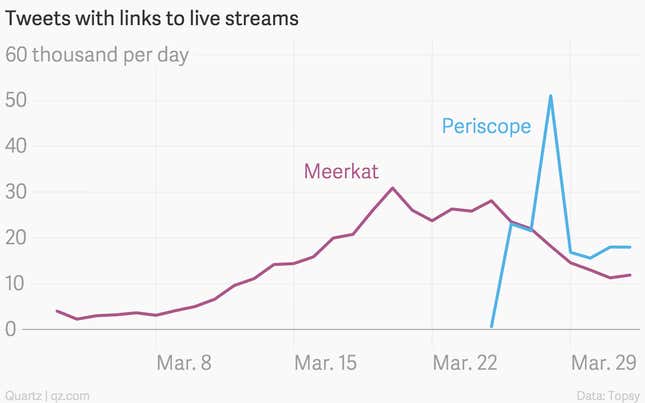 But after a big spike, Periscope has fallen back to earth. Over the past few days, Periscope links have received a few thousand more tweets per day than Meerkat, according to Topsy, which tracks Twitter. That's hardly an insurmountable lead.
Many expect Periscope to win. Its affiliation with Twitter seems like a real strength, considering Twitter's distribution power, its ability to directly integrate Periscope, and its relationships with media and celebrities. But it's hardly clear if this will be a winner-take-all market—or whether live streaming will simply become a feature of every social product, from Snapchat to WhatsApp. (And—if so—if someone will purchase Meerkat for a lot of money.)
"This is not a zero-sum game," Josh Elman, the Greylock partner who just led Meerkat's $12 million financing round, tells Quartz. (In addition to working in product roles at Facebook, Twitter, and LinkedIn, Elman started his career at RealNetworks, the 1990s streaming video pioneer, and has watched the industry evolve over 18 years.)
"The number of multi-billion-dollar companies around the distribution, programming, and content of live video is massive," Elman says, calling out the uniquely interactive and participatory nature of this new wave of mobile services. "There's so much opportunity here, it's crazy."
The bigger question: Is this new market going to last? Or is it simply a fad, like Chatroulette years ago?
It's easy to see why live streaming is finally catching on. From a practical standpoint, mobile networks are now fast enough in many places to support high-quality video streaming. (Our early experience with these services, however, has been flaky.) Screens are bigger, and people are simply watching more video on their phones. From a business perspective, this is also a potentially great development. Video is an excellent medium for advertising, and the immediacy of live events is an added bonus.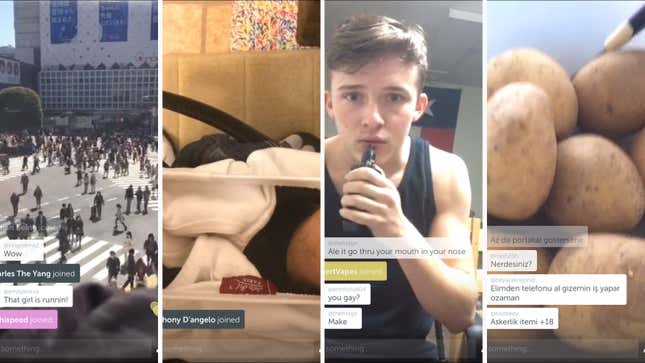 Meanwhile, thanks to the popularity of services like Snapchat, Vine, and Twitter, people seem increasingly comfortable publishing video of themselves.
But that hasn't led to reliably great content on Meerkat and Periscope. In our experience so far, some streams have been pleasant, such as a live view of Tokyo's Shibuya crossing. Some have been amusing. Others have been grotesque, such as a man using the toilet. None has been worth watching for more than a few moments.
The real magic seems to be the immediacy and breadth of available streams. There are still some questions to be worked out around the incentives for people to create and watch streams, especially once the initial curiosity and experimentation wears off. But there seems to be something here. The real key for Meerkat and Periscope, now, is to build the best possible tools for creating and participating in these streams, and making them an essential part of millions of lives. The race is on.