This article was updated on April 2 at noon in Hong Kong to include more information about the specific sanctions involved.
Iranian officials and negotiators representing Western powers have come to a preliminary agreement that would restrict Iran's nuclear program, in exchange for an end to economic sanctions that were tightened in recent years, but have roots as far back as 1979.
While there is plenty of concern about how a stronger Iran could impact the Middle East and the world, ordinary Iranians are celebrating the deal. The recent deal would lift trade and financial restrictions targeting Iran's energy and financial sectors, and key individuals.
About half of the country's 77 million people are under 35, meaning they've spent their entire lives living under some sort economic sanctions. The deal to end those sanctions is expected to bring Iran $1.6 billion a month in oil income alone.
Tehran residents poured onto the streets after midnight, the Financial Times reported (paywall), waving flags and in some case dollar bills, in the hopes that the Iranian currency might return to its previous strength. "We are going to be rich," one man told the FT.
A crowd gathered in front of the Foreign Ministry in Tehran to mark the deal:
"Now we will be able to live normally like the rest of the world," one celebrant told the AFP.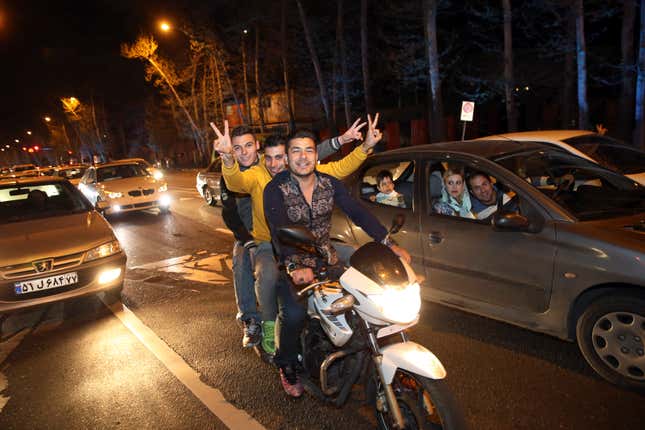 Twitter is technically blocked in Iran, but it is still utilized by politicians and citizens alike. After Iran's Foreign Minister Javad Zarif signaled a deal was a go, he was quickly showered with compliments and congratulations from his fellow citizens on social media.
Some Iranian citizens also thanked Barack Obama…
While those out of the country celebrated as well:
Under the yet-to-be finalized agreement, Iran will curb its nuclear activities and agree to inspections, in return for relief from sanctions imposed more than a decade ago. But optimistic Iranians are already heralding it as a "new milestone" for Iran's relationship with the West, and particularly the US.