Former Chinese security czar Zhou Yongkang has been charged with "bribery, abuse of power, and intentionally leaking of state secrets," according to state-run news agency Xinhua (link in Chinese). Zhou was arrested and expelled from the party in December.
Zhou was formerly a member of the country's highest governing body, and once ran the country's security, intelligence, and police agencies. He is the most prominent target yet (link in Chinese) in president Xi Jinping's purge of allegedly corrupt officials, which is famously aimed at both low-level "flies" and high-powered "tigers." Critics say the corruption crackdown is actually a way for Xi to eliminate his political rivals.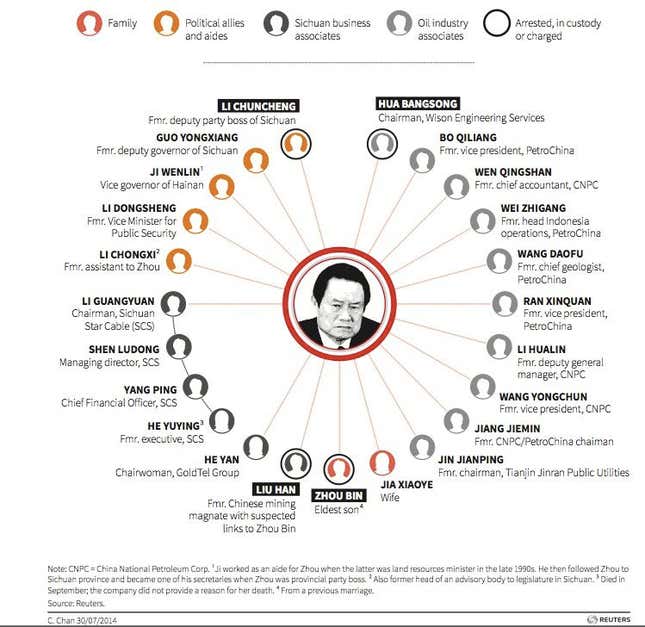 Charges of bribery and abuse of power are typical in corruption cases for fallen Chinese officials. But the fact that Zhou has also been charged with the more serious crime of leaking state secrets is unusual and more evidence of a historic fall for a man who was once one of China's most powerful officials.
According to Xinhua, prosecutors in Tianjin said Zhou "used the advantages of his position to seek benefits, and the gain of large sums of illegal wealth." The report went on to say that Zhou's abuse of power "caused public assets, the country and the people to suffer great losses" and that his violation of the country's laws regarding state secrets was "particularly severe."
China's vague states secret law encompasses everything from information on soil pollution and infectious diseases to intelligence on China's "national economic and social development."
The disclosure of the charges—including a Xinhua post on Twitter, which is blocked in China—follows Xi's promise to make the legal system more transparent, including a public trial. But the verdict against Zhou is likely already decided, since state media have been reporting on the looming charges against him for months.
At least one of Zhou's former allies has already been executed, and the net has tightened over his network of associates and relatives. Experts say Zhou is likely to receive a suspended death sentence that will effectively mean that he spends the rest of his life in prison.