A new swimming pool in the heart of London is going to be no crystal-clear oasis or aquamarine infinity pool. It's a pond, full of plants, probably some toads, maybe the occasional newt. And it looks amazing.
The pool is part of the redevelopment of Kings Cross Station and the area around it, which includes part of Regents Canal, the ornate St. Pancras Grand hotel, and Kings Place, a gallery and concert hall that also houses the Guardian and Observer newspapers. The total projected cost of the huge infrastructure project is £3 billion ($4.5 billion), but it's unclear what portion of that will pay for the swimming pond.
The pond, which will be filtered naturally by plants, is the brainchild of artist Marjetica Potrč, and was designed by Ooze Architects, a Rotterdam architecture studio. (Quartz has reached out to Ooze for comment, and will update this post with any response.) It will be 40 meters (131 feet) long when complete, and filtered by a "closed-loop" process that utilizes wetland and submerged water plants. The pond will be surrounded by seasonal wild flowers and grasses, and is slated to open to the public this spring.
Londoners have a long tradition of swimming in ponds: the Hampstead and Highgate bathing ponds on Hampstead Heath are open year-round, with swimmers cracking the ice on winter days.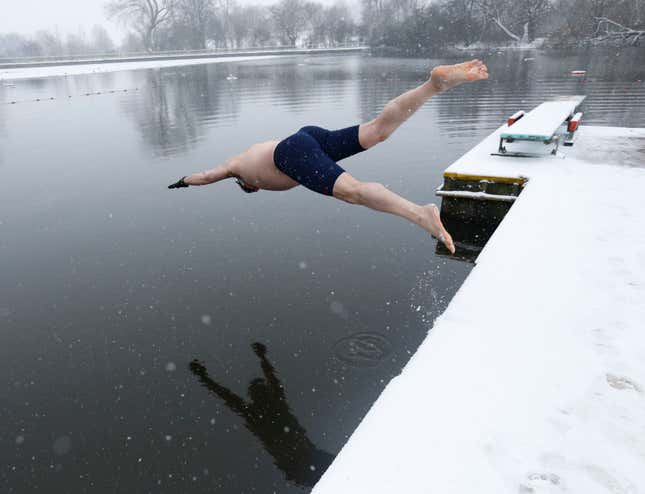 The men's pond was once well-know as famous gay hangout, while the Kenwood Ladies' Pond and Mixed Pond are cherished spaces (paywall), where a fight is underway to prevent development.
Outdoor swimming in general is popular with Londoners—even in unheated pools such as the Parliament Hill Lido, or the Serpentine, a river in Hyde Park. More luxurious open air pools also exist in east London—even one tucked amongst the buildings of Covent Garden.