Few television shows have had as big a cultural impact as the American cable show Mad Men. It changed fashion, made stars out of its previously unknown cast members, and paved the way for a golden age in television.
The story of how the hit drama made it onto TV has been told many times before (one fresh example: an oral history in the Hollywood Reporter this week). Less discussed is how the show, which begins the second half of its valedictory season in the US tonight, altered the history of at least two big media companies, and effectively changed the business of TV.
The short version of the story behind Mad Men's unlikely rise is as follows: Before Mad Men, AMC was an obscure movie channel marooned on the backwaters of cable TV.  Just as consumer tolerance for huge cable packages packed with unwatched channels was wearing thin, AMC decided it needed a high-quality flagship show so that pay TV companies wouldn't drop it from their offerings. It settled on a drama conceived by a former Sopranos writer, about a New York advertising agency, set in the 1960s.
And it worked.
Mad Men debuted in 2007. A year later followed another iconic and critically acclaimed show, Breaking Bad. Then came the zombie hit Walking Dead, which hasn't achieved the cultural significance of Mad Men or Breaking Bad, but has shattered ratings records.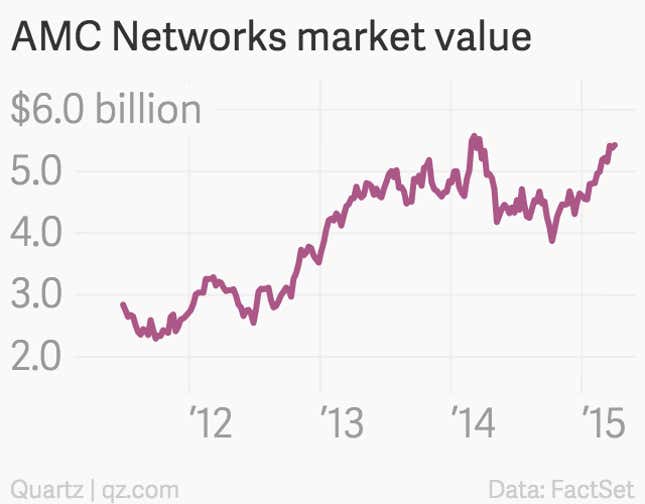 Suddenly, AMC had cachet. In 2011, seeking to capitalize on its hot streak, the channel's owner, Cablevision, rebranded the business unit housing it and various other cable TV properties as "AMC Networks," and spun it off to investors.
Since then, AMC Networks has been pretty terrific investment. Its share price has more than doubled, adding nearly $3 billion to its market value.
Sure, there have been plenty of other factors at play here. AMC's $1 billion acquisition of a bunch of international cable networks, its $200 million investment in BBC America, and speculation that AMC itself could be taken over, among them.
But it all started with Don Draper.
AMC Networks is not the only company that has benefitted from America's love affair with that dapper, flawed leading man. The boutique studio that produced the show, LionsGate, retained syndication rights. So when Netflix decided to pay $1 million per episode to secure the rights to stream it, LionsGate reaped the rewards.
Like AMC, LionsGate has been though almost as many ownership sagas as the agencies Don Draper has worked for and owned. In 2008, not long after Mad Men's first season aired, the corporate raider Carl Icahn tried to buy it. It's not clear whether Mad Men played a part his investment thesis, but in any case, the company did subsequently embark on a winning streak of its own, led by the hugely successful Hunger Games movie franchise. Icahn's battle for control ended in 2011. But intermittent speculation about a potential takeover still lingers.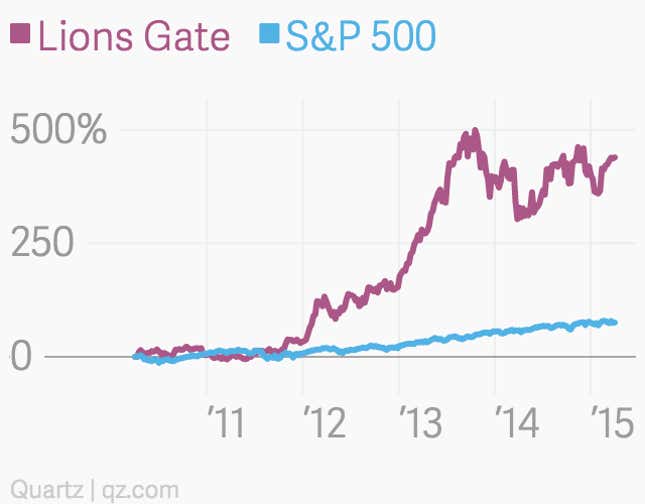 And the impact of Mad Men on the media industry goes far beyond dealmaking. The high cost of acquiring streaming rights to shows such as Mad Men was a key reason why Netflix started producing original content. And Netflix's success with shows such as Orange is the New Black and House of Cards has spurred the likes of Amazon and Yahoo to get into streaming, and produce high-quality original shows of their own.
So it's not unreasonable to say that if Mad Men never happened, TV, both as a business and an art form, would look very different.