The US, and its vast swathes of people with disposable income who shop for fun, is an ideal destination for counterfeiters, which makes life difficult for the agencies dedicated to patrolling the US borders and enforcing customs. Every year, they process about 24 million commercial cargo shipments arriving via sea and land and another 250 million international and express mail parcels. In all those arrivals they have to filter out the knockoffs from the genuine articles. Inevitably some get through, but plenty don't.
In 2014, these agencies made 23,140 seizures of counterfeit goods, according to a new US government report (pdf). If the goods had been genuine, their retail value (MSRP) combined would have exceeded $1.2 billion.
Of all the fake consumer goods coming into the US, the category with the highest total dollar value seized was watches and jewelry, taking the top spot from handbags and wallets, which led all knockoffs in 2013.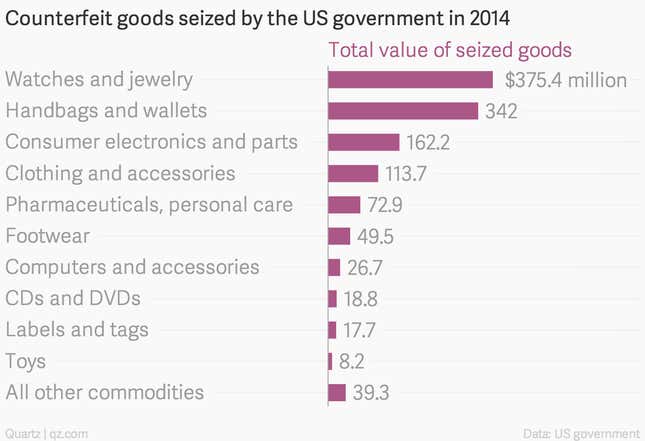 Fashion in general was popular prey for counterfeiters. If you combine all fashion merchandise, including accessories, clothing, and footwear, it accounted for about 72% of the value of all seized counterfeit goods. And if you disregard the price tags and look just at what items the agencies seized most, clothing led the way, comprising 28% of seizures.
The report didn't say which brands were knocked off most—Quartz has reached out to US Customs and Border Patrol and will update this post with any response.
As a whole the number of seized goods decreased 5% from 2013, and the dollar value of seized goods decreased 30%. But one thing didn't change from 2013: The country surpassing all others in producing the fakes was China—by far.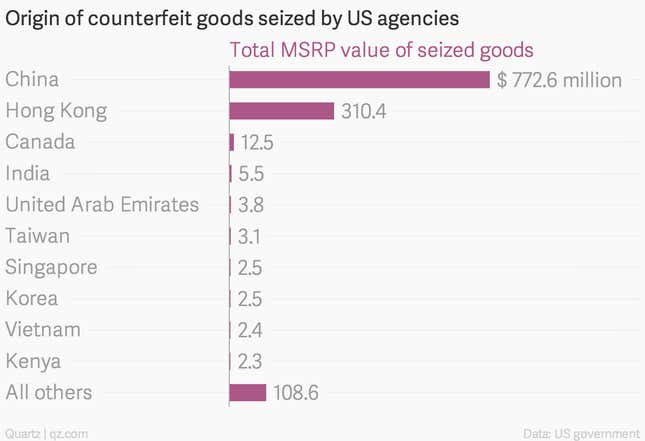 Perhaps the biggest surprise of the whole report, however, was Canada's sudden appearance at number three on the list of the top producers of seized fakes. In 2013 it wasn't even in the top 10. Maybe it has something to do with Canada's lax protections against counterfeiters.