The numbers: ZenPayroll, a San Francisco-based startup that helps small businesses issue paychecks and comply with tax-filing requirements, has raised $60 million in a series B round led by Google Capital, bringing its total fundraising to $86.1 million. The new financing boosts the company's valuation to $560 million.
Why ZenPayroll is interesting: Think of the startup as a Google Apps for payroll. It's not an incredibly sexy industry, but ZenPayroll is a leaner, more agile alternative to incumbents like ADP and Ceridian with its easy-to-use and automated cloud-based tools. Plus it's much cheaper: The startup charges small businesses, many of which have been taking care of payroll with pen and paper, a flat $25 fee, plus an additional $4 per employee, each month. It also plans to serve larger businesses down the line. "Everybody loves to get paid," CEO Joshua Reeves tells Quartz. But "payroll is normally thought of as a chore or a hassle—a nightmarish task for small-business owners."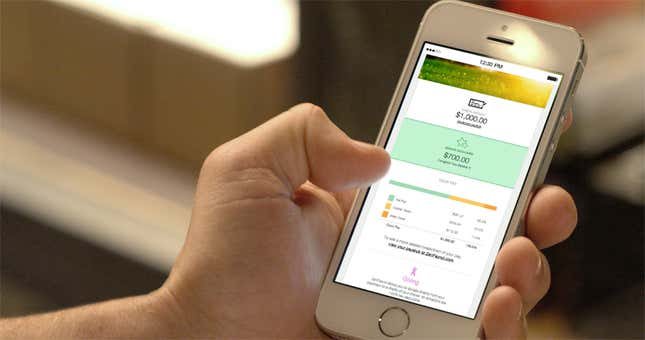 Why this isn't your typical fundraising story: ZenPayroll raised $20 million in a series A round last year from General Catalyst Partners and Kleiner Perkins Caufield & Byers, and prior to that, $6.1 million in seed funding from the CEOs and founders of various high-growth startups, including Evernote, Nest, Dropbox, Yelp, and Instagram. Though this funding will let the company expand its own payroll, this round wasn't really about money: Before this deal with Google Capital closed, ZenPayroll had $17 million in the bank, says Reeves.
Why it's raising money: Like its high-profile seed round, ZenPayroll strategically chose its newest investors, which also include Emergence Capital Partners and Ribbit Capital. "It's all about the people," Reeves says. Though Google Capital, which focuses on companies with high-growth potential, makes its investments independent of Google proper, ZenPayroll saw the opportunity to tap into the search giant's resources, including employees who could advise it on scaling nationally (and eventually globally).
Why Google Capital is interested: Google's not switching payroll providers anytime soon, says Google Capital partner Laela Sturdy. But she gave three reasons for the investment: strength in product, a large market opportunity, and the team. "We're big believes in Josh and his team, and big believers in where they can take this company," she says. "It'll be up to them to see how this grows."