In Russia, the data-leaking group Anonymous International struck again on Mar. 31, releasing an online archive (Russian) of around 40,000 text messages that the group claims belong to Timur Prokopenko, an influential Kremlin official.
This is not the first time that the hacktivist group Anonymous International has targeted Prokopenko, who helped shape the Putin administration's domestic policy from 2012 to 2014. In fact, as recently as February of this year, the group published (Russian) roughly 9,500 emails allegedly belonging to Prokopenko. In addition to the SMS messages at the end of March, Anonymous International also leaked yet another trove of messages in early April, this time including correspondence lifted from the messaging app Telegram, and again supposedly from Prokopenko.
An anonymous history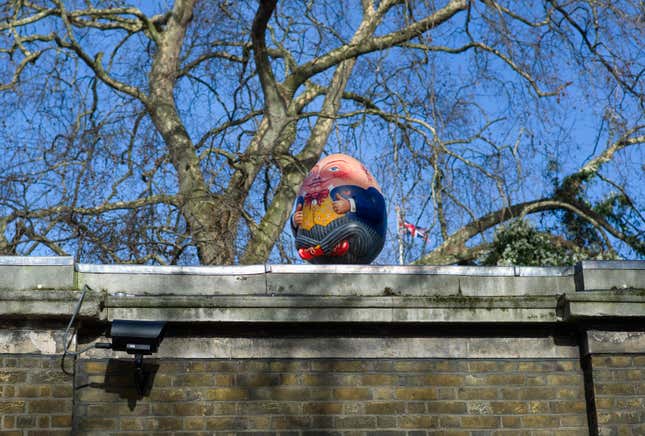 Anonymous International emerged at the end of 2013, when it published the full text of Vladimir Putin's New Year's national address a few hours before the speech was broadcast on television. Ever since, the group has busied itself with exposing the inner workings of certain political forces in Russia.
Anonymous International is widely known by the name that its "press office" goes by, Shaltai Boltai, which is the name nursery rhyme character Humpty Dumpty goes by in Russian.
The group publishes the leaks on its website, b0ltai.org. However, Russian media watchdog Roskomnadzor ordered access to the site blocked in July 2014, and it is accessible in Russia today only through a virtual private network or a mirror site. The group also tweets from the accounts @b0ltai, which is blocked in Russia, and @b0ltai2, a duplicate account that is still accessible in the country.
Intriguingly, Shaltai Boltai has been willing to speak about the group's activities with journalists, although getting a face-to-face meeting often requires elaborate security measures. Meduza's Daniil Turovsky had to travel to Thailand, for example, just to meet a Shaltai Boltai representative.
In Bangkok, one of the group's members revealed new details about their operation to Turovsky: "You understand, Anonymous International isn't my main job—it's not our main job," the member said. "We don't do it all the time. Shaltai Boltai is a byproduct of other games. We do information technology security… Our work is gaining access [to information]. … We have a small circle of regular clients. It's enough for us. Our prices start at around $30,000. I won't say how high they go. We earn enough to live comfortably and to travel."
When meddling in the media goes mainstream
According to a Meduza write-up of the group's latest leak, several exchanges stand out from among Prokopenko's 40,000 text messages, such as his conversations with Nikolay Molibog, general director of the Russian media group RBC, and with Alexander Zharov and Maxim Ksenzov, the head and deputy head of the Kremlin's media watchdog, Roskomnadzor.
Prokopenko supposedly tried to influence editorial policy at RBC and suppress stories that did not tow the official government line, including stories related to Ukraine. Other text messages allegedly show Prokopenko's close communication with the Roskomnadzor leadership, such as a discussion about prosecuting the creator of the popular nationalist website Sputnik & Pogrom for promoting extremism. (Prokopenko apparently argued against doing this.)
In one exchange, Roskomnadzor deputy head Maxim Ksenzov allegedly texted Prokopenko about his readiness to block the BBC in Russia after the outlet published a story about activists in Siberia supporting a devolution of political power away from Moscow. Prokopenko supposedly advised against the move, however, warning Ksenzov that blocking the BBC in Russia could put Russia Today's position in the United Kingdom at risk, and Ksenzov never followed through with the action.
In a post to Facebook (Russian) on April 1, RBC general director Nikolay Molibog confirmed that the leaked correspondence between him and Prokopenko is genuine. Molibog apologized for the few instances where his communications seemed inappropriate, but defended the association with Prokopenko on the whole, saying it is "normal" for the head of a major media group to be in touch with government officials. Molibog also reiterated that he is not responsible for managing RBC's content. That job falls to Maxim Solyus, RBC's chief editor.
No one is safe from scrutiny
Another journalist featured in Prokopenko's text messages, Znak.com's Yekaterina Vinokurova, is also struggling to save face in the wake of the scandal. Vinokurova is known for basing her reports on anonymous Kremlin sources, and Prokopenko, it seems, was one of these sources. In his correspondence with Vinokurova, however, Prokopenko was less than accommodating. In one instance, Vinokurova asked for help getting in touch with Rustem Adagamov's ex-wife, who'd just accused Adagamov of raping his 12-year-old stepdaughter. Prokopenko refused. Soon after, however, the official apparently passed along the ex-wife's contact information to Yana Lantratova, a member of the Kremlin's Council for Human Rights.
In addition to Vinokurova looking rather desperate for information (and for accreditation at state events, in another exchange), journalists pouring through the leaked SMS archives discovered racist remarks that Vinokurova made about Tajik schoolchildren. "I was in a nationalist stage at the time," she explained on Twitter when confronted about the comments.
Vinokurova has since questioned (Russian) the ethics of reading and reporting what is essentially stolen private correspondence, saying her comments were never meant for the public. Additionally, she alleges that (Russian) some of the content that's supposedly part of her correspondence with Prokopenko is actually forged.
It could have been worse
Popular columnist Oleg Kashin published an op-ed (Russian) on Slon.ru arguing that the Prokopenko text-message leak suspiciously reveals nothing illegal or even all that bad in the actions of state officials. Everybody in the Kremlin is basically just doing their jobs, the SMS archive seems to suggest, while people in the press—like Molibog and Vinokurova—are the ones behaving unexpectedly.
Kashin also mocks the popular theory that Anonymous International represents one of the so-called "Kremlin towers," referring to the theory that its leaks are aimed at weakening one of the several interest groups battling for dominance in the Russian state and economy.
But is anybody listening?
In a recent press conference, President Putin's press secretary Dmitry Peskov downplayed the group's latest information breach, saying, "I don't think a lot of people read these publications."
Judging by the chatter and interest generated online by Anonymous International's recent leaks, however, it is difficult to agree with Peskov's assessment.