Asia is quickly becoming the main target of US efforts to crack down on international corruption. The region is the focus of more than 100 ongoing probes under the US Foreign Corrupt Practices Act, which criminalizes bribery by companies and individuals outside of the United States, according to a survey by the law firm Freshfields Bruckhaus Deringer. That's more than twice as many as investigations as in any other region.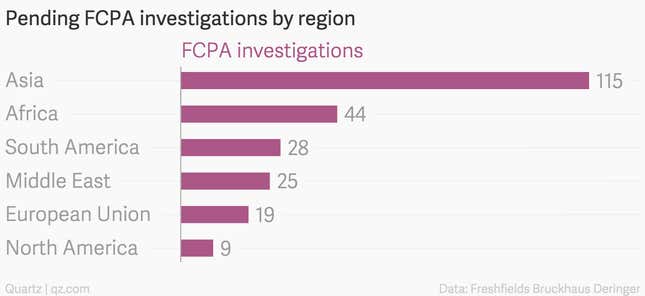 A spokesman for the law firm told Quartz that more than 80 of the 100 Asian investigations involved China.
The Freshfields survey is further proof of US anti-corruption authorities flexing their muscles in the region. In 2013 and 2014, Asia also was in the lead when it came to FCPA enforcement actions, but not nearly as decisively.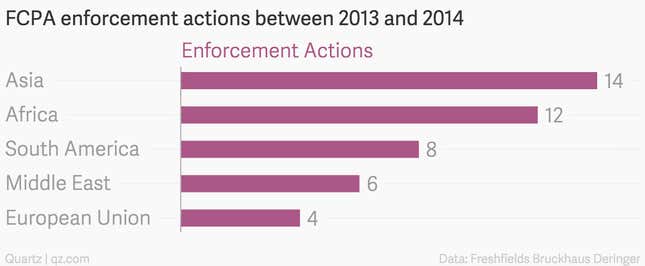 Foreign companies that are exposed to US enforcement actions are also paying more of these fines. Non-US based entities paid 63% of the total $2.3 billion in FCPA fines imposed in 2013 and 2014, even though they accounted for less than a third of cases. Last year, the DOJ imposed its largest anti-bribery fine ever of $772 million on the French power company Alstom for bribing officials in Indonesia, Egypt and other countries. The Chinese subsidiary of the New York-based cosmetics company Avon was also ordered to pay more than $135 million for concealing $8 million in "gifts" to Chinese officials.
These fines and investigations will only increase, according to Freshfields. "The number of international companies that are exposed to the extraterritorial jurisdiction of US regulators is set to skyrocket as those companies access US capital markets or structure investments in ways that attract US jurisdiction," said William Robinson, the firm's global investigations partner. "This means that US enforcement activity abroad will also rise accordingly."