The newly opened Edward M. Kennedy Institute for the United States Senate in Boston is designed give visitors an immersive experience of life in the US Senate.
What does it take to be a US Senator? How are laws made? What goes on in the US Capitol? Co-conceived by the late senator, who served for almost 47 years, the Institute is using interactive simulation games to instill an understanding of the American legislative system.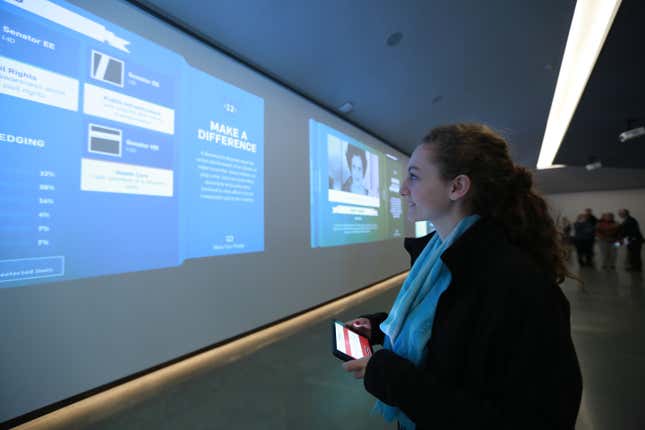 Inspired by a research trip to Washington D.C., the New York-based interaction design firm ESI Design created a circuit of interactive experiences that mirror real-world experiences in the Senate. Aided by digital tablets, visitors can create "senator-in-training profiles," make a public pledge about an issue, or play a "cloakroom conversation" card game to bargain for provisions on a bill.


At the heart of the Institute's modernist building (by Rafael Viñoly Architects) is a full-scale replica of the US Senate chamber—complete with simpler versions of the 100 Senate chamber desks arranged in a semi-circular formation.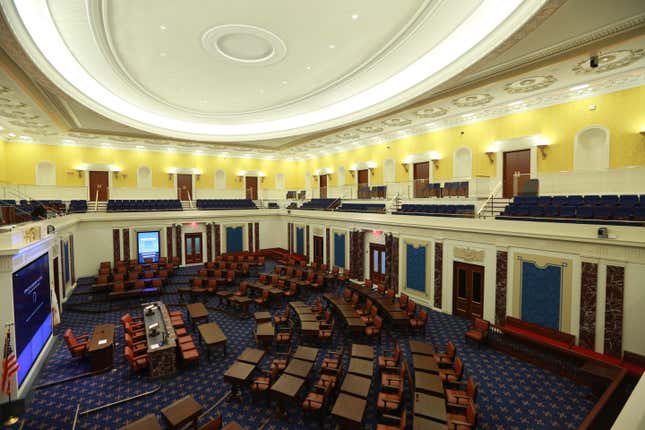 Beneath the grand chamber's covered oculus, visitors can cast votes on important matters like deciding on the National Sundae Topping. "We wanted to keep it light," says Joe Karadin, who was among the lead designers on the ESI team. "We designed it so people had a fun moment, while learning on a high level about how a bill becomes a law."
"Through the interactive experiences, we tried to illustrate the concepts of negotiation, collaboration and compromise—the key things that senator Kennedy believed in to get things done," Karadin tells Quartz, alluding to the Democratic senator's efforts at fostering a bipartisan ethos in the Senate.
The Institute also created a Senate Immersion Module, a kind of take-away version of the content from the digital tablets, intended for schools. "I'm most excited at the impact this could bring, especially to students," says Karadin. "Having been pretty ambivalent high schooler myself, working on this project was really eye-opening."
At the dedication ceremony, which was attended by president Barack Obama, Kennedy's widow and the Institute's co-founder, Victoria Kennedy, remarked, "It represents an entirely new model of civic engagement, using the best of technology to teach the history of the Senate and encourage face-to-face negotiation and debate. The Institute is a reminder of everything the Senate was designed to be—and everything it can be again."