Pandora Media operates the most popular streaming audio service in the US, the second-most popular mobile app among millennials (behind Facebook), and its revenue is growing like crazy.
What it doesn't have is much control over a huge chunk of its costs—namely royalties. The company last year paid out more than half its revenue to record labels, publishing companies, songwriters, and performers, based on royalty rates determined largely by the US government.
Those rates are in the process of being renegotiated, and the resulting uncertainty among investors is clearly starting to mount. According to Goldman Sachs, Pandora is one of the most heavily shorted internet stocks in the US at the moment.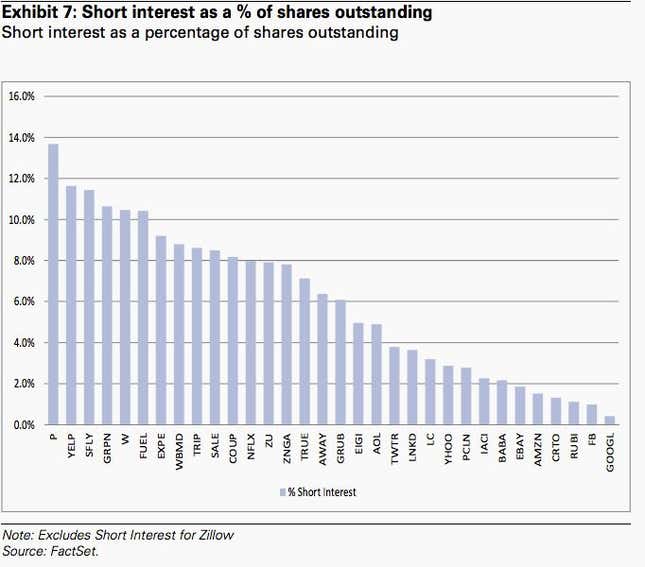 A high level of short interest means lots of investors are betting on the share price falling. But things don't always pan out this way. Netflix shares, for example (which hit record highs today and have been a terrific investment over most timeframes) are also quite heavily shorted. Lots of high growth companies are, because often they don't have sustainable profits yet, so the investment case behind them is inherently debatable.
But a high level of short interest can often, somewhat counterintuitively, help a stock—because when a heavily shorted company announced good news (or less bad news) many short sellers rush to close out their risky positions, sending the share price higher. That's worth keeping in mind when it comes to Pandora.
Last week, reports surfaced suggesting that the US Department of Justice is going to amend the system for music-publishing licensing that has been in place since the 1940s. This would most likely hurt Pandora, although royalties paid out to publishers represents a relatively low cost to the company (less than 5% of its revenue currently).
A much bigger cost (roughly 50% of its of revenue) involves royalties paid to record labels and performers. The process for renewing those rights is also picking up steam. Unsurprisingly, the labels are pushing for a rate increase, and Pandora for a decrease. Either way, it probably won't be resolved until the end of the year—which means the conjecture and shareholder anxiety will persist for some time.
"We believe this uncertainty around rates will continue to cause investors to discount the stock in 2015," analysts from Bank of America Merrill Lynch wrote in a recent research note, "but once removed could see the stock rise substantially assuming monetization growth is still intact."
Meantime, don't expect Pandora to be too bothered by all the short selling. Short interest in Pandora, while elevated compared with most stocks, has actually been much higher than it is now.