At most businesses, when demand threatens to outstrip supply, the boss happily boosts capacity. If only it were that simple for London's airports.
Both London's Heathrow and Gatwick airports recently reported record March traffic, with runways jammed and departure halls full to bursting. But British officials will approve extra runway space at only one of the sites, bowing to stiff opposition from local residents and climate-change campaigners.
That has sparked a fierce contest between the airports to prove which is more overstretched. The commission charged with making the decision will reveal its recommendation this summer; it is currently sifting through more than 68,000 responses to its latest public consultation.
Gatwick has been beating its bigger rival in terms of growth, with passenger growth of 8% in the year to March, versus around 2% at Heathrow: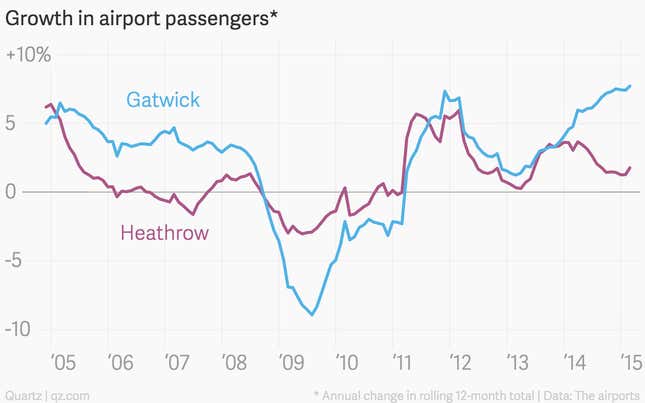 "Ours is the busiest runway in the world," Gatwick CEO Stewart Wingate said. The airport is now just a year or two away from hitting its maximum capacity of more than 40 million annual passengers on its sole runway, the company said.
Heathrow has been running its two runways at nearly full capacity for years, serving twice as many passengers as Gatwick. Its rival's growth in recent years has cut its advantage, but it is in no danger of being overtaken by Gatwick any time soon—Heathrow saw 35 million more passengers pass through its doors in the year to March: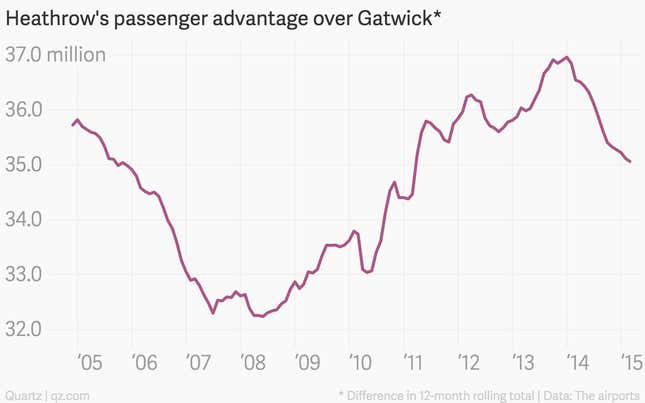 Emphasizing its advantage among long-haul carriers, Heathrow CEO John Holland Kaye said expanding his airport would "connect all of Britain to global growth." Channeling the mood of long-suffering passengers forced to put up with the capital's creaking airport infrastructure, he added: "Now, let's get on with it."