After watching London's housing market defy gravity for so long, its excesses no longer surprise economists. But eyebrows were raised today when the latest data showed that property prices in the capital were no longer the fastest growing in the country.
It was only the fourth month in five years when another region's house prices grew faster than London's: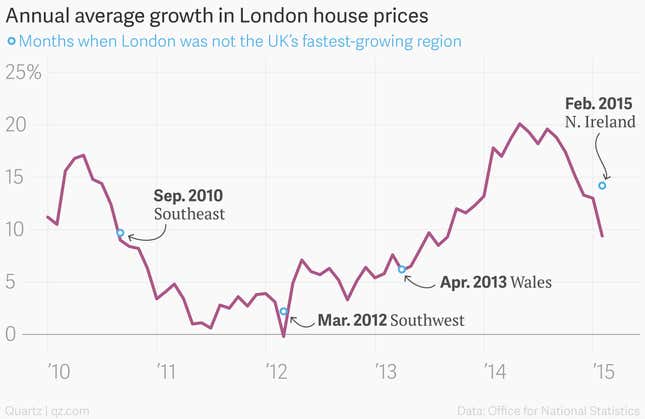 In February, house prices in London rose by 9.4% versus the previous year. In most places, that would represent heady growth, but it's a significant cooling-off for London, where average prices were rising at a 20% annual clip not long ago.
Northern Ireland is now in the spotlight, with February property prises jumping by 14.2% there. Although comfortably outpacing London, few expect this to mark the start of a boom in Belfast to rival the capital's. The recent jump is partly—if not mostly—a function of how far property prices had fallen in Northern Ireland, which is by some measures now the most affordable place to buy a house in the UK. The average house in Northern Ireland is still worth 40% less than its 2007 peak. Meanwhile, prices have risen by more than 40% in London over the same period.
Still, London's days at the top of the rankings seem numbered. Analysts at the Centre for Economics and Business Research (CEBR) reckon that the deceleration will continue, and prices in London will actually fall by 3.6% this year. The strength of the pound and new taxes on luxury properties will make London less attractive to the foreign buyers that have fuelled the recent boom, the analysts say. Property prices in the UK as a whole will rise by 1.5%, CEBR predicts, making it the first time that housing markets outside of London will outperform the capital on an annual basis since 2009: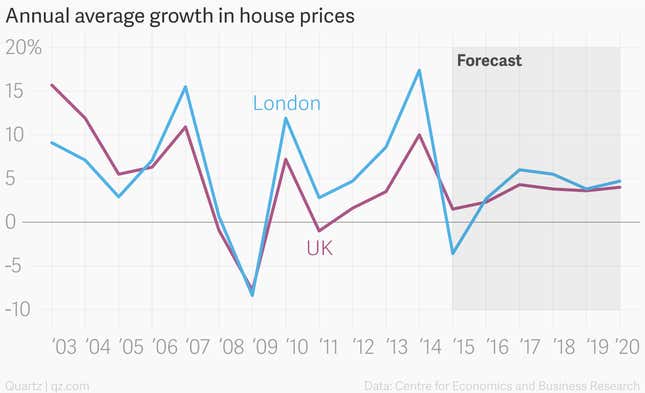 But even if London's overheated housing market finally cools down, the long boom that came before will leave buyers in the capital waiting quite some time before they see anything like the bargains on offer in Belfast. And anyhow, CEBR believes that London will reassert its dominance in 2016 and beyond, with price growth once again consistently outpacing the rest of the country.