The numbers: Great. LVMH, the parent company of Louis Vuitton and a number of other brands, continues to show strong growth (pdf) after a very successful 2014. The luxury group reported first-quarter revenue for the year of €8.3 billion ($8.9 billion), an increase of 15.5% over the same quarter last year and a 12.7% increase from Q3 2014.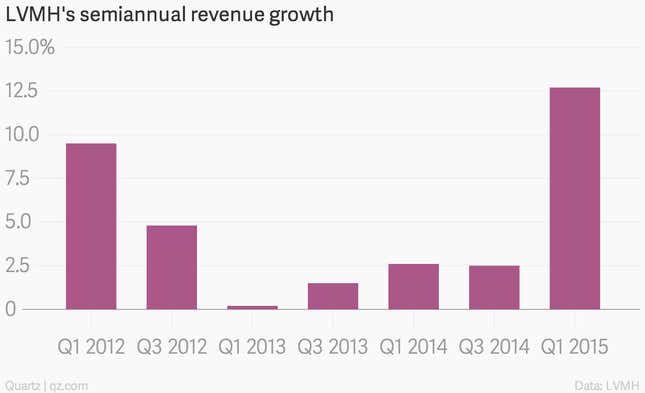 The takeaway: Watches, jewelry, and cosmetics sold particularly well for the company. In the report, it highlighted what it called the "exceptional performance" of Bulgari and Sephora, which showed "double-digit" comparable store growth in the Americas and the Middle East. The weak euro also helped boost sales of fashion and leather goods. As for which markets did the best, it was the US and Europe that led. In Asia (not including Japan), business contracted 6%, and LVMH cited "challenging" conditions in Hong Kong and Macau affecting sales in its airport duty-free stores.
What's interesting: LVMH didn't come right out and say it, but it seems that Nicolas Ghesquière, Louis Vuitton's still fairly new creative director, is doing good things for the label. Although the group doesn't break down its quarterly earnings by brand, it did report that sales of fashion and leather goods were up 12.7% compared to the same period in 2014, and Louis Vuitton historically makes up about three-quarters of those sales. It also happens that Marc Jacobs' farewell collection for the brand was spring-summer 2014, meaning his final pieces would have been in stores in the first quarter of 2014—the period of comparison. (LVMH is still a majority shareholder in Jacobs' own label, though, so that would have contributed to its revenue as well.)
The other clue is that in a press release for the earnings report, LVMH noted that Louis Vuitton "recorded an excellent start to the year," and that it "again displayed strong creative momentum with growth in its legendary lines and the unveiling of many new products at its most recent shows." After Ghesquière's debut last March, Michael Burke, Louis Vuitton's CEO, told the New York Times that the company was seeking a change in direction. "Marc was more focused on the moment, not on defining a more timeless woman," he said. "Literally a few days before the show, he could completely change his mind because it was not of this week. Nicolas does not work that way."
However Ghesquière works, he seems to be doing it right.