Another day, another record low for the Turkish lira. The currency crossed 2.70 to the US dollar today, extending a series of losses that stretches back years but has accelerated in recent weeks. The lira is one of the worst-performing emerging markets currencies against the US dollar so far this year, losing around 13% of its value versus the greenback.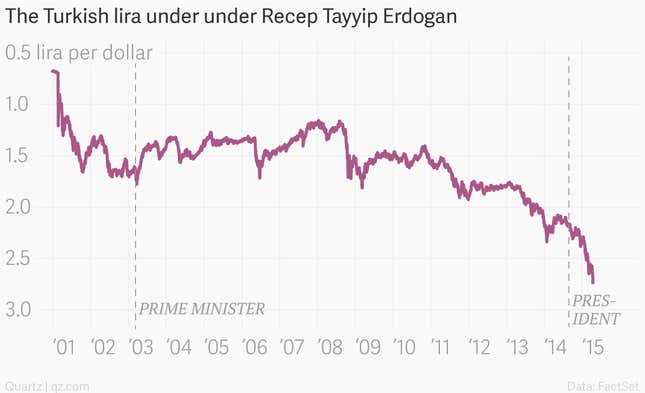 Turkey's central bank has been trying to talk up the currency, but its options are limited—after all, president Recep Tayyip Erdogan once denounced central bank chief Erdem Basci as a "traitor" for not cutting interest rates more quickly. But lower rates are the last thing that Turkey needs to shore up the lira right now. Turkey relies heavily on foreign borrowing, and the expected rise in US interest rates will make financing its already wide deficit even harder.
The other thing that turns off traders is Erdogan himself. He took power as prime minister in 2003 as a reformer, but "the reform phase effectively ended in 2006-7," an analyst told Reuters. Erdogan made self-preservation more of a priority as time went on, particularly when he switched to president last year after he hit a three-term limit on serving as prime minister. By not addressing the economy's structural weaknesses—unemployment is now at a five-year high—growth has sputtered and investors have taken flight.
What's more, the Erdogan regime's checkered history on human rights and free speech is now mixed with an air of conspiratorial paranoia, with officials recently denouncing Pope Francis as part of an "evil front" seeking to undermine the ruling party. (The Pope dubbed the 1915 massacre of Armenians by Ottoman Turks a genocide, which Ankara vehemently denies.)
A key pledge by Erdogan's Justice and Development Party going into a June general election is to change the constitution and centralize more power in the presidency, until now a mostly ceremonial role. As we have recently written, this volatility and unpredictability makes Turkey look less like a democracy and more like an "arbitocracy":
Turkey's problematic relationship with the rule of law has always spurred criticism. However, there has been no other period in which the system revolved around one man, and in which the violation of the constitution has become so commonplace, unquestionable and unjustifiably arbitrary.
This is not a trait that attracts much-needed foreign capital, and the lira's long slide shows what the markets think of the country's increasingly erratic leadership.