One flakka user impaled himself on a fence. Another tried to have sex with a tree before attacking police. A third attacked an 82-year old stranger, but remembers nothing. Called "$5 insanity" by some users, the relatively new synthetic drug is sweeping through Florida, leaving bizarre and grisly crime scenes in its wake.
The drug is part of a growing global epidemic of what law enforcement and health experts call "new psychoactive substances"—synthetic drugs that are designed in laboratories in China, Mexico and the US. These drugs started appearing in recent years, and are being closely monitored by UNODC and others: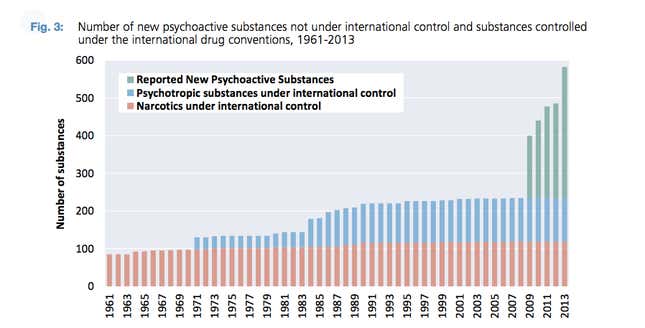 The active ingredient in flakka is alpha-Pyrrolidinopentiophenone, or "alpha-PVP," which is related chemically to the active ingredient in "bath salts" or mephedrone, and known as a "second generation bath salt." It has been illegal in the United States since 2014. But in China, it is easily available online.
Alpha PVP, along with the building blocks for other synthetic drugs, is openly for sale on a number of websites linked to Chinese companies, like Hubei's WuHan ZhiCheng Chemical Technology: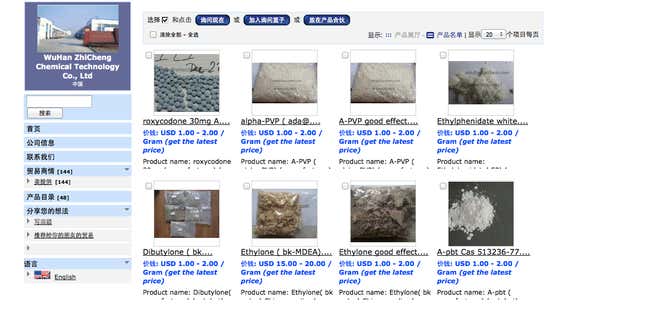 There are numerous Chinese vendors of alpha-PVP on Trademarket, a members-only online shopping website, including Wanyou Industrial, which promises "big, beautiful crystal" supplies.
While American and Mexican distributors also offer the drug ingredients online, Chinese labs predominate. Mexican drug cartels have started relying on Chinese ingredient suppliers, and officials tracking synthetic drugs proliferation are pointing fingers at China's chemical industry. US drug officials say shipments of Chinese "precursor chemicals" are a huge contributor to the US's methamphetamine problem.
In China, "there is some kind of corruption in the chemical/pharmaceutical industry taking place allowing this to happen," Jeremy Douglas, the UNODC's expert on southeast Asia and the Pacific, said in February, after 2.4 tonnes of methamphetamine were seized in China.
Police in the last year have arrested a number of Americans who purchased bulk quantities of alpha-PVP from Chinese companies, including two men in Wisconsin, a university student in New York, and a man and woman in Minnesota.
Although synthetic drug ingredients appear to be readily available to purchase in China, officials there have been on a nationwide crackdown against domestic drug use since September of 2014, and arrested more than 130,000 people, CCTV news reported yesterday. Liu Yuejin, an official in the ministry of Public Security, told CCTV that while the arrests showed the campaign was working, "the situation of drug abuse in some areas is worse than expected." The rise of online drug-dealing is particularly alarming, officials told CCTV.
The southern province of Guangdong, which abuts Hong Kong, is China's synthetic drug factory, thanks in part to the area's traditional proficiency in making Chinese medicine, which includes one of the key natural ingredients in methamphetamine, which is replicated in synthetic drugs like flakka.
Zheping Huang contributed reporting.