Earlier this week, workers in low-wage sectors throughout the US protested the low pay and benefits that often put them in a precarious financial position. Among them were child care workers, those employed both by childcare facilities and parents to care for their closest of kin.
It's a labor force that faces exceedingly high expectations: to dote on, educate, and cultivate the mental and physical development of another slice of society's little cherubs. And yet, many don't earn enough from the job to afford quality healthcare, or to properly care for their own children.
A report this month from UC Berkeley's labor center shows the predicament of those workers: It highlighted that 46% of child care workers are on some type of public assistance. That's nearly twice as high as the enrollment rate for Americans overall (25%).
In the report, public assistance is measured by enrollment in one of the following: Medicaid, Children's Health Insurance Program, Temporary Aid to Needy Families, Earned Income Tax Credit (EITC), or the Supplemental Nutrition Assistance Program (SNAP).

The child care numbers mostly apply to people caring for young children full-time in-home and in care centers, rather than teachers of young children, says Marcy Whitebook, who authored a November Berkeley report on the unsavory conditions for child care workers in the US.
The most prevalent form of aid is EITC, which provides a credit for low-income Americans.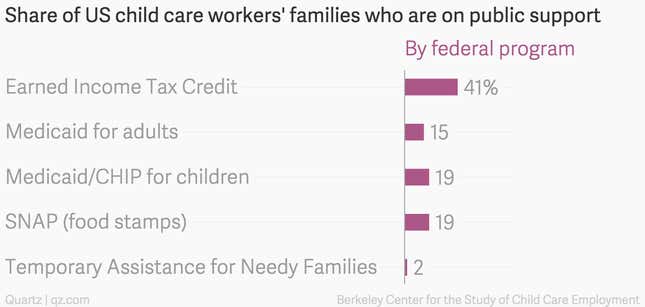 Increasing the minimum wage to $15 for these workers could help alleviate some of the stress that comes with not being able to pay one's own bills, Whitebook says. Child care workers in the US made a median pay of $9.38 per hour in 2012, according to the Bureau of Labor Statistics. Low wages reduce the number of skilled candidates entering the field of child care, and discourage further education and qualifications that would help boost skills on the job, Whitebook tells Quartz.
Low pay also results in high turnover in the field, which can compromise the development of babies and young children. "Unless kids feel that security and feel attached to the people in their environments, they don't feel safe to explore," says Whitebook.
The budget constraints of young American families who require child care often impede higher pay. Outside of programs for the military, the US does not have a nationally-funded child care system (whereas countries like Germany and Finland help fund public child care at all income levels). A 2013 New York Times op-ed points out that, "in 35 states and D.C., even the cost of center-based day care (let alone a nanny) is higher than the cost of a year of a public college."
The dearth of affordable child care is especially hard on the children of US child care workers; low-income workers often resort to family and friends to care for their own children. In many US states, yearly child care for two kids costs more than a parent earns at full-time minimum wage (via Slate). Achieving affordable childcare alongside higher worker wages, says Whitebrook, has to avoid overburdening parents who are already strapped.