As startups raise money and outgrow their living rooms or garages, one of the first things they do is seek new digs. But the Silicon Valley tech boom is making affordable office space hard to come by in the San Francisco Bay area.
Commercial real estate around San Francisco is hitting its highest per-square-foot costs and lowest vacancy rates since at least 2010, according to data from brokerage firm CBRE. However, Oakland is lagging the area's overall real-estate boom, especially compared with Silicon Valley's San Mateo and Santa Clara counties, and San Francisco itself.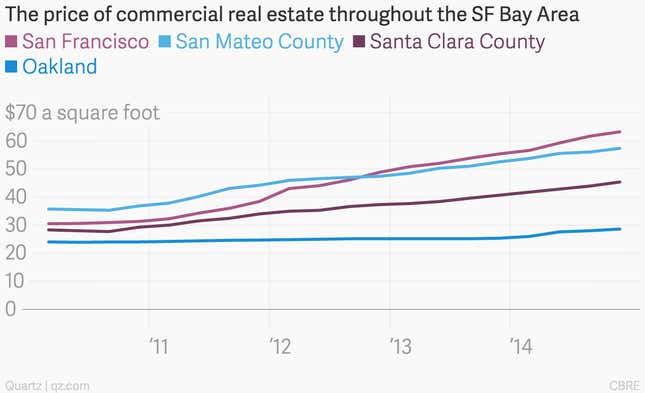 Oakland is connected to San Francisco by the 4.5 mile (7.2km) Bay Bridge. Yet despite its proximity, Oakland's 7.8% unemployment rate is more than twice that of San Francisco's. At $52,583, its median household income lags its neighbor by more than $20,000.
The stark differences between these two cities can be seen in the demand for commercial real estate leases as well. From 2010 to 2014, Oakland's average per-square-foot cost rose 19% to $28.60—less than San Francisco's going rate five years ago. San Francisco averaged $63.24 per square foot at the end of 2014, basically doubling over the same period. There's a major gap in vacancy rates too: Oakland's 11.6% versus San Francisco's 6.6%.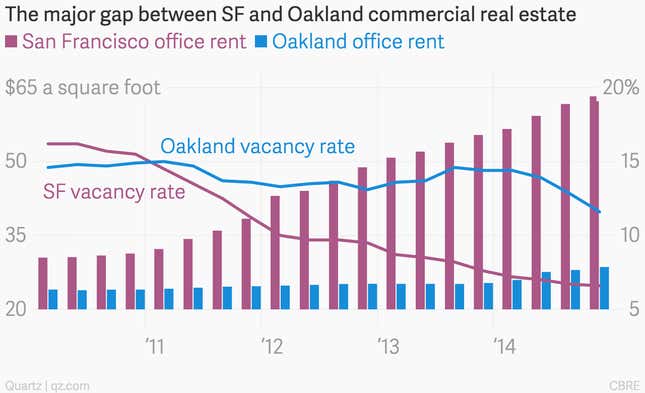 These differences—plus the headaches of finding real estate in San Francisco and Silicon Valley—are the very reasons why tech companies are now eyeing the East Bay as they expand. Pandora is one of the most visible tech companies in Oakland currently, but more are expected to arrive soon: A developer plans to transform an old Sears building downtown into a major tech hub with 350,000 square feet in commercial real estate. The project will be completed in 2016.