Trust the French to make something as academic and stodgy as philosophy sexy again.
A 12-hour overnight marathon of philosophical readings, lectures, and performances organized by the French government's diplomatic wing might not sound like a particularly hot ticket. But after blockbuster versions of A Night of Philosophy in Europe, where thousands of attendees patiently queued through the night for the privilege of watching academics wax philosophical, the French embassy to the US is debuting the event in New York (with plenty of croissants and French DJs on hand, bien sûr).
If you had any doubts about the state of American intellectual curiosity, this might be heartening: More than 14,000 people have RSVPed for New York's version of A Night of Philosophy, which is happening tomorrow night (April 24).
"Maybe New Yorkers are mad clickers on Facebook, but the response is incredible," says the event's curator and founder Mériam Korichi, a philosopher and stage director who studied at the Sorbonne and Harvard University.
Since the first iteration of the event, in 2012, the all-night philosophy fete has attracted thousands: 1,200 in Paris in 2012, 2,500 in London that year, and 3,500 in London in 2013. "In Berlin [in 2014], 5,000 people showed up and some drove for three hours to attend a lecture. It's kind of mad if you think about it." says Korichi.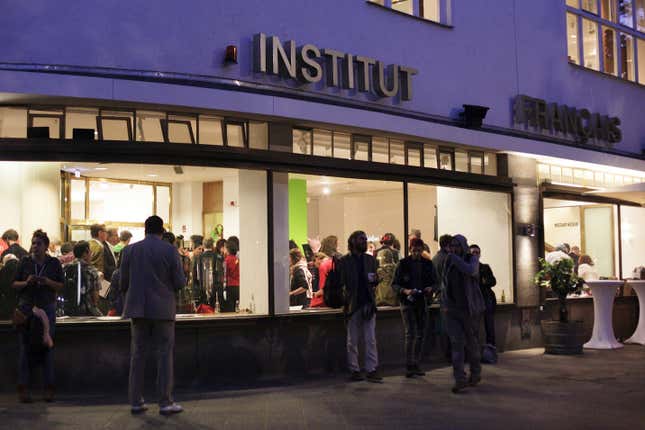 Instead of using the slicker format of today's popular ideas conferences, the event takes inspiration from the happenings of Andy Warhol, where participants jam and interact around an art event, talk, or performance.
Tomorrow's program (PDF) packs in 62 lectures, 12 live performances, and some video screenings. Lectures touch on everything from the mundane to the metaphysical: aliens, suicide, ecstasy, religion, freedom, moral relativism, and language.
DJs will be spinning under the cobalt canopy of the embassy's crown jewel, the Albertine bookstore. A performance will take place inside a space capsule replica. And a reading of the quintessential French 18th-century sexaholic, the Marquis de Sade, is planned. "I'm a great partisan of more is more," Korichi tells Quartz.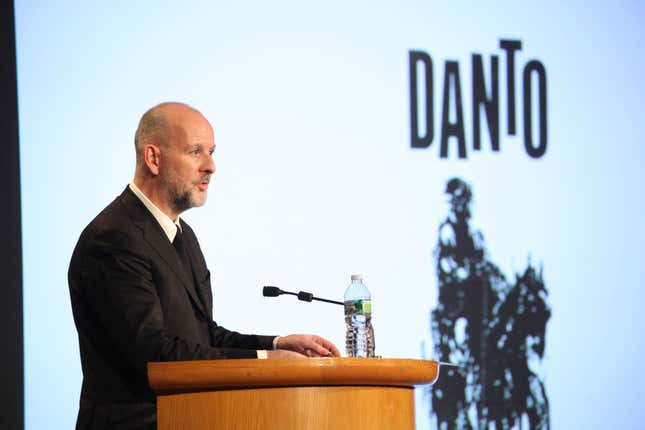 In these days of constant digital distraction, holding the event at night carves out some space for it, Korichi explained.  "It induces a slowing down where you enter a different temporality—that moment in the evening when you just let go," she said. "Perhaps then you have a better quality of thinking because you feel free from exterior pressure. This event is about creating this kind of parentheses, where good thinking can happen."
The Night of Philosophy fits perfectly with the French diplomatic mission, said Bénédicte de Montlaur, the new Cultural Counselor of the French Embassy.
"We're trying to host high-quality intellectual debates that are open to the public and not kept in the ivory tower," she tells Quartz. "We thought, especially at this very moment, after what happened with Charlie Hebdo in January, it's really important to know how to raise questions and fight fundamentalism with philosophy."
The event is free and open to the public, and will occur from 7pm to 7am at the French Embassy in Manhattan (934 5th Ave.) with additional venues at its next door neighbor, the Ukrainian Institute.
Those doubtful about their stamina for Sartre, patience for Pascal, or sitzfleisch for Schopenhauer need not worry, said Montlaur. "If you want a full shot of philosophy you can stay for the whole night. But you can also come at 5am, have a croissant with some philosophy, before doing the loop in Central Park."