For the last eight years the world has followed the triumphs and struggles of Don Draper, the misogynistic advertising executive with more than a couple of skeletons in his closet. However, it seems actor Jon Hamm, who plays Draper in the critically acclaimed and widely viewed AMC drama Mad Men, may have a skeleton of his own.
The actor, it was reported by the Associated Press earlier in April, was once arrested for allegedly hazing a pledge at a fraternity initiation while attending the University of Texas 20 years ago.
College fraternities are facing an identity crisis. Over the last year, the reputation of these campus institutions and their members has been sullied by repeated instances of misbehavior—sometimes criminal, sometimes merely abhorrent—that in many cases has gone unchecked for generations. Like Hamm, fraternities across America now must decide what to do next.
An antiquated tradition, in crisis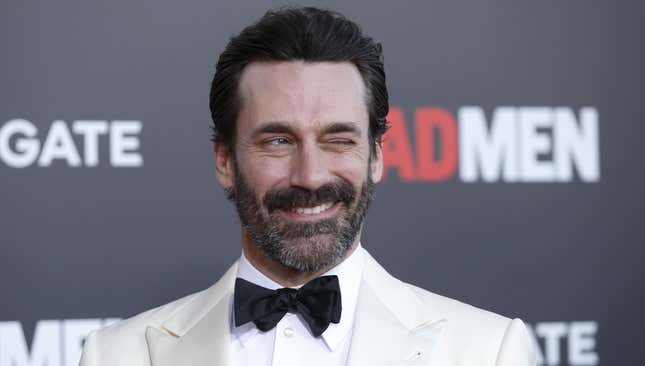 It is perhaps only fitting that Hamm's character Don Draper exists in the male-dominated realm of late 1950s corporate America. Viewers know the ways of the world he inhabits will soon be shaken by a cultural cataclysm—even if he doesn't yet.
At my own school and on the national stage, fraternities are finally beginning to realize that their missteps are becoming harder and harder to keep hidden. Public shaming has so far inspired more defensiveness than soul-searching, however. And it is precisely this lack of introspection that may result in the timely extinction of one of America's most antiquated traditions.
Last July, I wrote an op-ed detailing my decision to leave my fraternity at Wesleyan University, a small liberal arts school in Middletown, Connecticut. That article strained friendships, but I felt the lessons I had learned were too important to keep to myself.
After a period of sustained debate, Wesleyan's administration and Board of Trustees decided to force all residential fraternities to co-educate or shut down. This change seems to not have had the desired affect, however, as two of the school's three residential fraternities have since been shut down following allegations of sexual assault and an inability to enforce housing policies during parties. The last of the three fraternities, Delta Kappa Epsilon (DKE), recently filed a lawsuit against Wesleyan on the grounds of sexual discrimination.
As the brothers of DKE gear up for a fight inMiddletown, another confrontation is brewing on the national stage. Members of the Fraternal Government Relations Coalition, a lobbying group that supports fraternity interests, are considering increasing their efforts on Capitol Hill to halt legislation that would require colleges and universities to more change the way they investigate instances of rape and sexual assault on their campuses. The lobby's concern may be related to damning research suggesting fraternity men are more likely to commit sexual assault than non-fraternity males.
Hazing's bonds need to be broken
The way fraternities are currently organized is at the root of their crisis. An exclusionary nature and philosophy of building up young men by first breaking them down is not working.
Fraternities sell themselves to prospective members on the notion that they will mold boys into men. The philosophy behind hazing—a crucial tool brothers use to gauge commitment to a fraternity—is that struggling with subhuman tasks shoulder to shoulder with other pledges creates some sort of special bond.
These tasks can be harmful on a physical level, but their psychological toll is potentially more damaging. By cultivating this special brand of loyalty, fraternities make it nearly impossible to speak out against fellow brothers. Blind loyalty of this calibre, in an exclusionary system, breeds injustice and groupthink.
"While activists and college officials have worked to combat college sexual assault on campus, the power and responsibility to affect change lies with the perpetrators, not the victims," writes Jared Keller, a Wesleyan University alumnus and member of the Xi chapter of Psi Upsilon. "In reality, it's bystander intervention by male students that may help vaccinate campuses against systemic misogyny by reshaping Greek culture from the inside out," Keller suggests. And yet the system is designed to make speaking out against another brother's actions at a frat party seem more challenging than anything faced during the pledging process.
Society is losing patience
Young men today need role models who speak out against inequality across gender, race, sexual orientation, and who understand the dangers of losing sight of one's own identity amid the identity of the group.
Hamm was a 20-year-old sophomore when the alleged fateful initiation ceremony almost ruined his career before it started. Now 44, he has yet to make a public comment. That's unfortunate. While just one man, his silence is a metaphor for the choking effect fraternal loyalty has on progressive thinking and individuality. (Quartz has reached out to Hamm and will update with comment.)
This is not to say there aren't already leaders among the Greek community who understand the need for progressive debate, like Wesleyan's own Matthew Leibowitz, founder and executive director of Consent is So Frat, who has been struggling to change the fraternity system from the inside out. But these voices are clearly not enough.
It might sound counter-intuitive, but in order for fraternities to survive in an increasingly enlightened world, they must restore individuality to each and every brother. By destroying the old mentality, frats may be able to achieve some sort of redemption before society decides they're simply too far gone to be worth saving. And as evidenced by increasing calls for a nuclear solution, time is quickly running out.