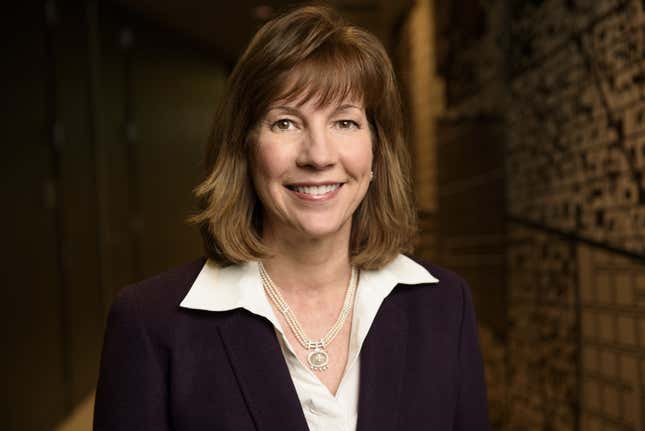 Accounting giant KPMG announced Tuesday that its new CEO and chairman will be company veteran Lynne Doughtie, the first woman in the position.
She was elected by KPMG partners for a five-year term, and will start in her new position in July. Her appointment to CEO follows that of Cathy Engelbert at Deloitte, another "Big Four" consultancy.
Doughtie, 52, has been at the company for three decades. She started at KPMG in 1985 as an auditor. Most recently, she led the the firm's US consulting branch, which has grown at a 17% annual rate (paywall) since she took over in 2011.
Women make up only 4.6% of CEOs of companies in the S&P 500. Because of slow turnover at the highest echelons, changes towards more egalitarianism further down the chain haven't yet translated into many women getting the top jobs. But both KPMG and Deloitte CEOs serve for limited terms—five years in KPMG's case, four in Deloitte's—which may be why Doughtie and Engelbert were able to get their chance. In the US, 44.5% of KPMG's workers are women, as are 19% of the company's partners. The company told Quartz that women make up 46.1% of the university graduates it hires, and 43.2% of hires with previous work experience.
A recent project by crowd-funded trading platform Quantopian showed that companies run by women CEOs perform better than the average.