President Calvin Coolidge once famously said, "the chief business of the American people is business." But Silent Cal undoubtedly knew that business can quickly go sour. Yes, America is the land of milk and honey, but sometimes opportunity does more than knock: It pummels! Take poor Ronald Wayne, who gave up his slice of Apple just as the company was being incorporated in 1977. His windfall: $800. Or the creators of Superman, who sold the rights to Man of Steel for $150. Then there was the disastrous opening day at Disneyland—"Black Sunday," as Uncle Walt called it, and the inauspicious debut of the Ford Edsel (not to mention other product bombs like celery-flavored Jello, "New" Coke, and McDonald's McDLT, McPizza and McLean).
From failed mergers to epic corporate collapses to the cream pie that landed on Bill Gates's face, I recount some of the more catastrophic episodes of American enterprise in my new book "Bad Days in History: A Gleefully Grim Chronicle of Misfortune, Mayhem, and Misery for Every Day of the Year."
Here are a few of my favorite bad days in business:
JANUARY 3, 1977
Apple Dumpling: A Co-Founder's Small Sliver of the Pie
Ronald Wayne considered himself a lucky man when Apple Computers was incorporated on January 3, 1977. Not because of the potential windfall, but because he had extricated himself months earlier from what he considered a potentially risky partnership with Steve Jobs and Steve Wozniak. As the company's co-founder, as well as the most mature and experienced of the three, Wayne had been given a 10% stake to essentially serve as Apple's parent, charged with keeping the two other eccentric geniuses under control. But that, as Wayne later recounted, "was like having a tiger by the tail." Two of them, actually, and as the only partner with any assets that could be seized, Wayne decided that the risk was too hazardous. So he was grateful to be set free, and with a check for $800 to boot! That amount more than doubled when, to avoid any potential legal issues, the new company formally bought out the old. The co-founder thought he was flush with cash, and though his relinquished slice of the Apple pie eventually became worth in excess of $30 billion, Wayne always insisted he wasn't bitter. As he told the UK's Daily Mail in 2013, "If I had stayed with Apple and accepted the limitations on my philosophy of life I could have well ended up the richest man in the cemetery." Instead, Wayne remained alive and well, selling stamps and coins out of his mobile home in Nevada. And collecting Social Security.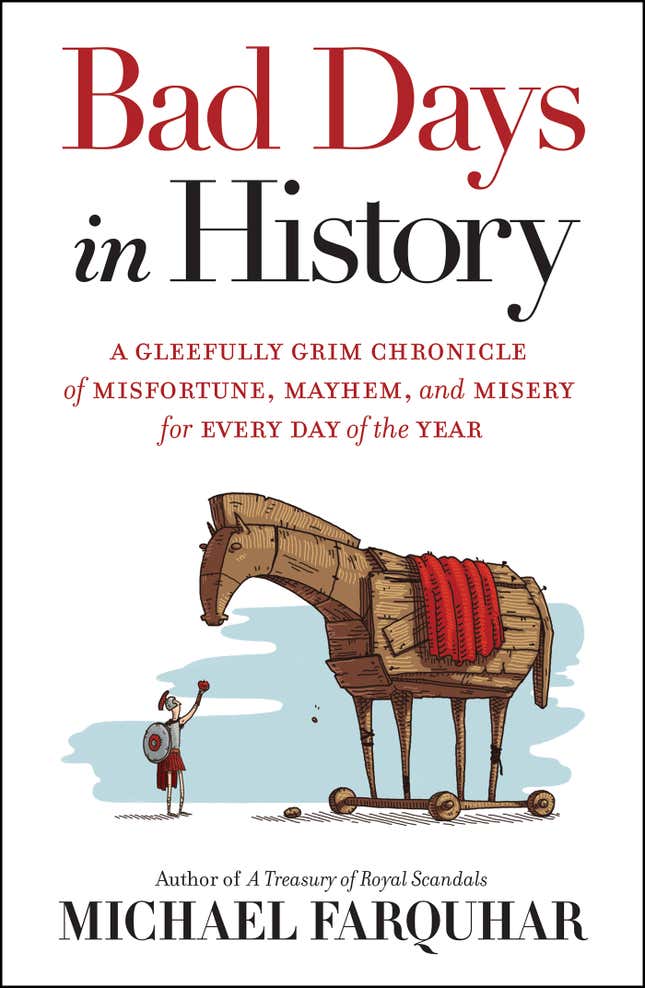 JULY 17, 1955
The Blunderful World of Disney
There was very little magic to be found on July 17, 1955, when Disneyland made its official debut. In fact, the park's opening was such an epic disaster that not even Snow White's Evil Queen could have conjured it. Fifteen thousand guests had been invited to the opening ceremonies that day, but because of a glut of counterfeited tickets, nearly twice as many showed up—inundating the park and creating massive traffic jams on the Anaheim Freeway. The hordes quickly gobbled up all the available food and, with their sheer mass, nearly capsized Mark Twain's Riverboat. A plumbers' strike had forced Disney to make a choice between working bathrooms or running drinking fountains—thus, toilets flushed, but the lack of water left people parched and cranky in the blistering 101-degree heat. So scorching were the temperatures that the recently paved Main Street became a gurgling tarry mess that sucked off shoes. Rides failed, surly guards intimidated visitors, and a gas leak forced the closure of Fantasyland. No wonder, then, that Walt Disney came to refer to opening day as "Black Sunday."
"Walt's dream is a nightmare," one reporter wrote. "I attended the so-called press premiere of Disneyland, a fiasco the like of which I cannot recall in 30 years of show life. To me it felt like a giant cash register, clicking and clanging, as creatures of Disney magic came tumbling down from their lofty places in my daydreams to peddle and perish their charms with the aggressiveness of so many curbside barkers."
Adding to Uncle Walt's misery was the fact that Disneyland's grand opening was being televised live and viewed by nearly 90 million people. It was a star-studded extravaganza, featuring Ronald Reagan, Bob Cummings, and Art Linkletter as emcees, but various glitches and miscues only made the fiasco more apparent. In one mortifying instance, actor Fess Parker, who played the rugged Davy Crockett in movies and on television, was described as the lovely Cinderella as he led a parade down Main Street.
A lesser man might have been crushed by such a dismal day, but with all the pluck of Mickey Mouse, Walt Disney forged ahead. Just three months later, Disneyland greeted its one millionth guest and went on to become the grandfather of an empire of theme parks, world renowned for their efficiency, cleanliness, and fun— and all with working drinking fountains.
SEPTEMBER 15, 2008
Here's Looking at Hubris: The Lehman Debacle
When it came to the executives working beneath him, there was little that escaped the attention of Lehman Brothers CEO Dick Fuld—or "Gorilla," as he was called because of his intimidating demeanor. He expected them to be the best-dressed men and women on Wall Street, specified to which charities they would donate, spelled out where and with whom they would socialize, and even kept close tabs on the state of their marriages, which he insisted be happy ones.
But there was one thing the fastidious master seemed to miss while exercising nearly complete control over his people, and that was the looming financial crisis that would drive Lehman Brothers into ruin and help trigger the deepest recession in seven decades.
Fuld blithely ignored, or denied, the ominous signs that Lehman's subprime lending and leveraged loan practices, as well as its risky real estate ventures, had pushed the kingdom he ruled for 15 years to the brink of collapse. In the face of disaster, the cocksure CEO contemptuously dismissed a number of offers to buy Lehman assets that could have potentially saved the company.
In the end, though, no amount of foolish bravado, or cleverly disguised accounting, could stave off the inevitable. On September 15, 2008, Lehman Brothers was forced into bankruptcy—the largest in American history, with $613 billion in debts outstanding. "I feel like I want to throw up," Fuld said at the time—a sentiment no doubt shared by the 26,000 Lehman employees who, after months of soothing reassurances by their leader, lost their jobs, their benefits, and the entire value of their company stock.
"There were people here who just a few weeks ago would go through hell for Dick Fuld," a former Lehman executive told CNBC. "That has changed. People want his head."
As it turned out, they would have to settle for a punch in the face, which one employee duly delivered to Fuld when the bankruptcy was announced.
OCTOBER 29, 1929
Well, It Was True for a While . . .
Many lost fortunes after the massive stock market crash, but a group of Washington bankers also lost face. Just 10 months before—while the 1920s were still roaring—The Washington Post polled a group of financial leaders and asked them for their predictions for the year ahead. Their opinions were so glowingly positive that the newspaper featured them on the front page, under the banner headline "GOOD TIMES ARE PREDICTED FOR 1929."
DECEMBER 20, 2007
Ho Ho Oh No! The Poison Christmas Present
There was one tiny problem with one of the holiday season's most popular toys—a minuscule yet highly carcinogenic problem: asbestos, found in the fine dusting powder of the "CSI: Crime Scene Investigation Fingerprint Examination Kit." And though the Asbestos Disease Awareness Organization had earlier discovered the microscopically lethal substance in the kit, which allowed kids to emulate the investigative heroes of the hit CBS television show, it would take almost a month before the network succumbed to pressure and quietly—very quietly—ordered a recall on December 20, 2007. By then, however, the toxic toy—hazmat suits not included—was under countless Christmas trees, just waiting to be unwrapped by unsuspecting junior crime solvers. Merry Mesothelioma!