Updated on April 23 at 3:30am EDT

Southern Chile's Calbuco volcano unexpectedly erupted for the first time in more than 40 years on April 22, and then blew again early on April 23. Authorities evacuated residents in a 20 km (12 mile) radius, as a rising plume of ash threatened to wreak a path of destruction through nearby homes and forest.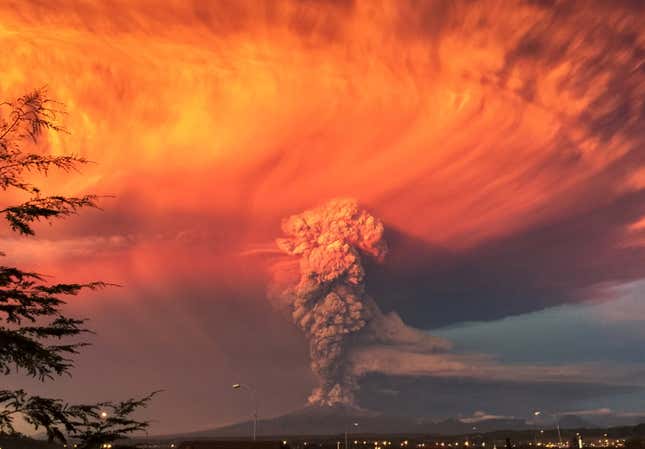 Chile's National Geological and Mineral Service issued a "red alert" about the eruption at about 6:30pm local time on April 22. Hours later, the agency warned on Twitter that a flow of lava could be imminent:
A first eruption on the evening of April 22 caused a several-kilometer-high ash plume that potentially poses a grave danger. "The main risk is that it collapses, falls due to gravity because of its own weight and causes a pyroclastic flow," vulcanologist Gabriel Orozco told local television, according to Reuters. A pyroclastic flow, Reuters notes, is "a superheated current of gas and rock that can destroy nearly everything in its path and travel at speeds upwards of 200 to 300 kilometers per hour (125 to 185mph)."
A second eruption, which began at 1:00 am on April 23 was even more powerful, the geological service said (link in Spanish). Nearly three hours later, the second eruption was still going on, the service Tweeted, saying "There is no third eruptive pulse. The second is not over."
About 5,000 people have been evacuated so far, the AFP reports. Puerto Montt, population 212,000, and Puerto Varas, population 41,000, the nearest sizable towns, are about 30 kilometers away. Schools and flights to a nearby airport have been canceled and emergency services are headed to the region, the AP reported.
Nearby Chileans filmed the volcano's original eruption:
And photographed it spreading across the sky:
Located about 600 miles south of Santiago, Calbuco, a 6,500 foot high mountain, appeared as a snow-filled crater on Google Earth earlier this year: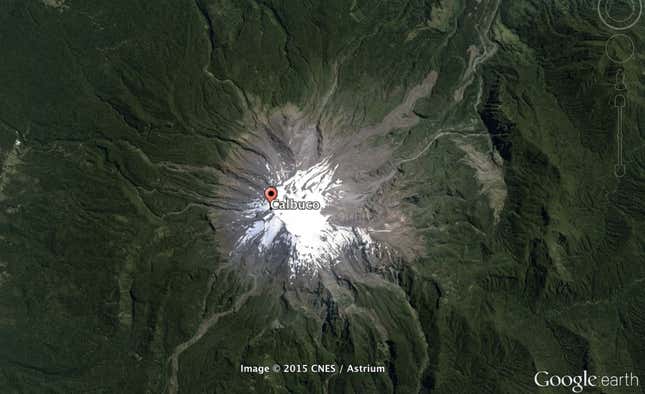 Here's how it looked after the first explosion: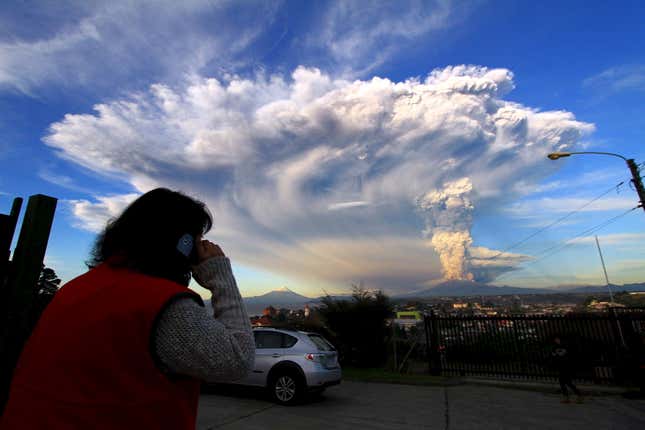 And hours later: