A gradual lifting of sanctions on Iran could reopen the Middle East's second largest economy (after Saudi Arabia) to US and Western companies. Many European companies were active in Iran until 2010, but American companies have avoided doing business in the Islamic Republic for decades, either by choice or due to sanctions.
As negotiators from Iran and the world's six major powers work to finalize a nuclear deal by June 30, businesses are investigating their prospects in Iran. An agreement that lifts even some sanctions might, over time, allow American firms access to a consumer-rich market.
Iran's population, at about 80 million, is the third-largest in the region, after Turkey's 81 million and Egypt's 86 million. Its consumer base is also young and well-educated. And the middle class has had a taste for US goods dating back to the days of the Shah.
#Apple store in #Tehranhttp://t.co/a5tRYtzeqDpic.twitter.com/Wa1ouels21 via @thekarami & @Iran_Style

— Zan Magazine (@ZanMagazine) October 19, 2014
However, if a nuclear deal is signed, international companies are unlikely to flood Tehran immediately. The lifting of sanctions is likely to be a lengthy and uneven process for the United States and European countries. And some sanctions—imposed in response to alleged human-rights abuses and support for extremist groups by the Iranian government—will remain in place. The difficult business climate, rife with corruption, could be an additional obstacle.
Historical context
Before the 1979 revolution, the United States and Iran had a close relationship based on energy trade and common Cold War-era security priorities. Bilateral trade peaked in 1978, when the United States exported $3.7 billion worth of goods to Iran and imported $2.9 billion worth of goods from Iran.
On the eve of the revolution, the United States and West Germany were Iran's largest trading partners. Nearly 50,000 Americans worked and lived in Iran. In turn, American goods—mainly arms, industrial equipment, technology, and agricultural and consumer goods—accounted for some 16% of Iranian imports. Iran bought between 50% and 75% of its imported rice, wheat, and cereals from the United States in the 1970s.
US-Iran trade plummeted after the 1979 revolution, especially when American hostages were held for 444 days at the US embassy compound in Tehran. The Carter administration suspended Iranian oil imports in late 1979, and severed diplomatic relations with Tehran in 1980. But US-Iran trade resumed in 1981 after the hostages were released. US exports totaled $300 million in 1981—down from $3.7 billion in 1978. Iranian exports to the United States totaled $64 million—down from $2.9 billion in 1978.
Through subsidiaries, American energy companies continued to buy Iranian oil—worth up to $3.5 billion a year—off the international market in Rotterdam until the mid-1990s, when sanctions were broadened.
Over the years, Washington has imposed waves of sanctions on Tehran over three broad issues: support for terrorism, failure to comply with United Nations on its nuclear program, and human-rights violations. Yet American companies have legally continued to export a wide array of goods under equally broad exceptions that covered food, medicine, and humanitarian goods.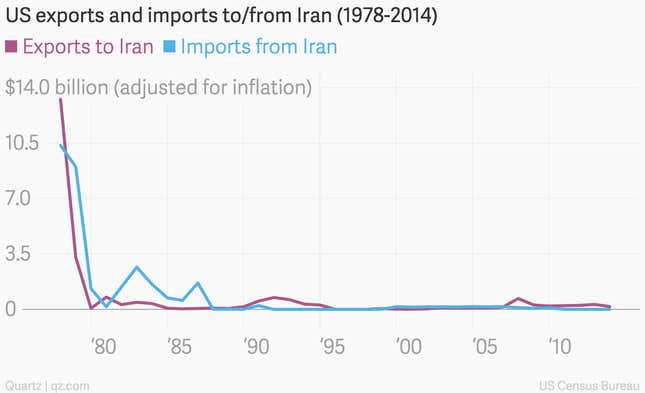 *Values converted to real 2015 dollars using the average annual Consumer Price Index.
US interests and non-oil trade
Trade has fluctuated from year to year. It dipped after the Clinton administration imposed new sanctions in 1995. But trade increased slightly in 2000 when sanctions on carpets and caviar were lifted in modest outreach to Iran's reformist government.
Major US exports to Iran in recent years have included wheat, rice, soybeans, corn, dairy, pulpwood, plastics, medical equipment and pharmaceuticals. Iran is the region's second-largest grain importer after Saudi Arabia. US exports to Iran in 2014 ranged from medical instruments to chocolate, even bull semen.
The following is a sampling of American products exported to Iran in 2014, which totaled $182.1 million:
US and Western businesses are already interested in reentering the market. "Iran is the last, large, untapped emerging market in the world," Ramin Rabii of Turquoise Partners, an Iran-based investment firm, told the BBC. About 65% of the population is under 35 years old, and literacy among 15- to 24-year-olds is 98%. Total adult literacy is 85%. About half of all Iranian households reportedly have internet access.
As of 2013, the World Bank classified Iran as an "upper middle-income" country. It estimated that per capita income—based on purchasing power parity (PPP)—was $15,610. Even under sanctions, Iran's economy has been the second largest in the region, once again after Saudi Arabia, and its gross domestic product (GDP) was ranked 32nd worldwide in 2013.
Iran's consumer culture has long been heavily influenced by Western trends. Western-style grocery stores and shopping malls have been gaining popularity over the past decade. American and European luxury brands are popular with the elite in major cities, especially Tehran, because of their reputations for quality.
Iconic beverage brands such as Coca-Cola and Pepsi have prospered in Iran for years at the expense of local rival Zamzam Cola. The presence of bootleg versions of American restaurants and coffee shops—from "Mash Donald's" to "Pizza Hat"—suggests opportunities for US franchises to expand and thrive.
When in Tehran, you don't (can't) need Starbucks. You go for the #Raees (boss). Hat tip to a Tehrooni coffee addict. pic.twitter.com/eV8K0Z0WmK
— Mahsa Alimardani (@maasalan) March 30, 2015
American electronics brands, such as Apple and Dell, are still smuggled into Iran. Computer stores in Tehran are modeled after their US counterparts and stock the latest merchandise. Apple iPods, iPhones, and iPads are particularly popular. An Iranian company that resells Dell products even offers warranties. Both Apple and Dell reportedly contacted potential Iranian distributors in 2014.
Iran is also one of the largest car markets in the Middle East. American cars were popular before the revolution. General Motors partnered with an Iranian company to produce cars for several years before 1979. The auto industry has historically been Iran's largest non-oil industry. Domestic production peaked in 2011, at about 1.6 million vehicles per year, before tightened sanctions cut off imports of car parts and bank transfers that halved output. But auto sales rose 32% in 2014 over 2013. American cars and trucks have already begun to make a comeback.
#chevrolet Corvette Stingray 2014 in iran. @chevrolet یا ابلفض pic.twitter.com/3MSu9VIaSh
— mir. (@_amirkord) March 8, 2014
With a female population of nearly 40 million, Iran is reportedly the second-largest cosmetics market in the Middle East. For more than a decade, Iranian merchants have sold big American clothing brands, such as Victoria's Secret, in storefronts that mimic their US counterparts—but without legal franchises.
Iran also represents a promising market for US tobacco producers. Marlboro has especially been popular for years. Until 2006, cigarettes made up a large share of American exports to Iran. Western brands are commonly smuggled into Iran to meet demand. About a quarter of Iran's annual $11 billion cigarette imports are smuggled.
Until fall 2014, sanctions had prevented US companies from selling aerospace parts to Iranian airlines. Iran Air's aging fleet includes 12 Boeing aircraft, some of which are more than 30 years old. Boeing's small sale of aircraft manuals, drawings and navigation charts to Iran Air in Oct. 2014 carried symbolic weight as the first publicly acknowledged transaction between US and Iranian aerospace companies since the 1979 US hostage crisis.
Iran has reportedly signed three contracts with Boeing since an interim nuclear deal was negotiated in late 2013. Two were extensions of existing agreements and one was a new contract between Iran Air and the American company. So far, Boeing has repaired seven of Iran Air's plane engines, according to Iran Air CEO Farhad Parvaresh.
American music and movies are still popular in Iran. Bootlegging of Western tapes and later discs—especially of material that might otherwise be banned by the Iranian government for perceived immorality—has been common since the revolution. Smuggling DVDs and CDs has given way to illegal downloading, so some movies are now sold on memory sticks on Tehran's streets. The latest American releases, even ones still in theaters, are popular. If Iran and the US were to recognize each other's copyrights, the American movie and music industries could benefit hugely.
Costs and obstacles
For more than a year, Iran has been courting investors, hosting foreign trade delegations, and dispatching envoys abroad to investigate new business opportunities. But Western businesses are not likely to enter Iran too quickly if a nuclear deal is reached. American companies may hesitate to make serious investments until they are convinced of the long-term durability of any agreement, experts predict.
The complex layers of US and European sanctions would also take time to unravel. Western sanctions linked to Iran's support for terror and its human rights abuses will remain in place until Tehran's behavior changes. And some two dozen US states have enacted their own punitive measures on companies operating in certain sectors of Iran's economy, according to Reuters. In more than half of those states, sanctions will remain in place unless Iran is removed from the list of state sponsors of terrorism or if all federal sanctions on Iran are lifted.
International companies that have operations in the United States and European Union risk facing sanctions or punitive fines if they move into Iran before sanctions are lifted. Violating sanctions can be expensive and damage a company's reputation.
In 2014, the French bank BNP Paribas pleaded guilty to two criminal charges for violating sanctions against Iran, Sudan, and Cuba. It ended up agreeing to pay $9 billion to the US government, a record fine for violating US sanctions. US regulators banned the bank from conducting certain transactions in US dollars for a year.
Western companies would also initially face difficulties starting businesses or partnerships in Iran. Widespread corruption and significant government involvement in the economy have created a challenging business environment, even for European companies that were active in Iran before sanctions were ramped up in 2010. The line between the private and public sector also is not always clear because the Revolutionary Guards have affiliated companies working in many major industries.
Iran ranked 130 out of 189 economies in the 2015 World Bank report on business regulations and property rights protections. The Islamic Republic performed worse than the regional average in most categories. It ranked 62nd for starting a business, 89th for acquiring credit and 172nd for obtaining a construction permit.
US producers may face difficult obstacles to selling and investing, but the Iranian market is too large to ignore, especially given the dearth of other emerging markets with a middle class eager and able to buy imported goods. "I am already seeing a rush to market by US and EU companies," a director of the British-Iranian Chamber of Commerce told The Wall Street Journal. "And no one wants to be left behind."