It has been two years since the Rana Plaza Complex outside Dhaka, Bangladesh collapsed, killing more than 1,130 people inside, most of whom were female garment workers. The tragedy launched an imperative to protect workers' safety in Bangladesh, which is one of the world's top three producers of clothing (pdf, p.7). A deadly lack of fire safety equipment and marked exits, forced labor, child labor, and the freedom for workers to organize are among the many issues that still need to be addressed.
Stakeholders are tackling the overwhelming issue in myriad ways: Workers and their families rally for compensation; International apparel brands form coalitions to audit factories and help finance upgrades; Local manufacturers struggle to implement safety measures; And, perhaps less effectively, western consumers hashtag selfies in solidarity for "Fashion Revolution Day."
Meanwhile, one small team of researchers at NYU's Stern Center for Business and Human Rights has made it their mission to put all of Bangladesh's garment factories on a single map.
"You can't do anything to fix something," Nayantara Banerjee, a Stern graduate fellow and the project's manager, told Quartz, "if you can't find it."
However bureaucratic mapping Bangladesh's garment factories may seem, the effort tugs at an important, often invisible thread of its apparel sector: subcontractors.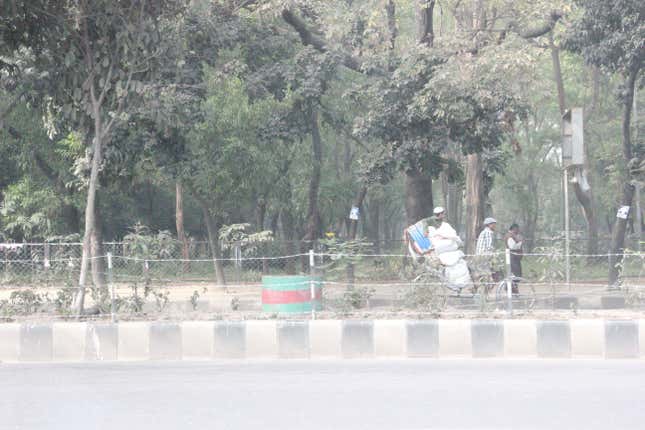 Bangladesh's larger manufacturers that maintain relationships with international brands are often supported by separate satellite facilities, known as subcontractors. Picture a factory operating at its full capacity—workers on every machine, covering shifts for 24 hours a day—to meet orders for a US retailer. Then, an urgent reorder for a popular style arrives: A particular sweater has flown off the shelves, and needs to be restocked in six weeks. Rather than turning down the business and risking a valuable relationship with a Western brand, the factory owner can subcontract some piece of the orders to an associate with a smaller manufacturing facility nearby.
Done above board, subcontracting this way can be a win-win. But it's frequently done invisibly—at least to safety auditors, international customers, and government officials—and unsafely.
Disasters such as the one at Rana Plaza or the Tazreen Factory fire in 2012, expose unauthorized subcontracting when brands deny knowledge of a factory's place in its supply chain—as Benetton initially did in regards to Rana Plaza.
A comprehensive, transparent database and map of manufacturers—whatever their size—would begin to make Bangladesh's vast universe of garment manufacturers visible to auditors, regulators, banks, and brands. To be sure, even many factories that do appear in public databases are hurting for resources to make them safe and stable workplaces. The team at Stern hopes their map will help make sure the neediest businesses aren't left further behind.
The mapping work is at once tedious and clumsy. The team of four people at Stern has just finished the first step, which involved cross-referencing and checking locations from five inconsistently kept public databases to put about 7,000 garment factories on a first draft of their map. Local experts are helping to confirm those registered factories' locations, where streets are often unnamed and buildings are unmarked. Next, said Banerjee, they will begin to seek out the subcontractors that support them.
The media have painted a bleak picture of "the vast underworld of illegal subcontractors," but Banerjee said it doesn't have to be this way.
"These smaller facilities don't necessarily want to operate in the shadows," she told Quartz, but as Western retailers adopt a "zero tolerance" policy when it comes to unauthorized subcontractors, they risk pushing them further into the dark.
In December of 2014, Banerjee visited one such subcontractor in Dhaka, Abdus Salam, a proud pattern-maker who owned a factory that had employed 100 workers. In Salam's workspace, a pile of plaid shirts for a well-known US brand sat unfinished; his employees had been sent home indefinitely. The larger facility that had subcontracted the shirt order had panicked and withdrawn the business in the wake of Western retailers' post-Rana Plaza crackdown on subcontracting.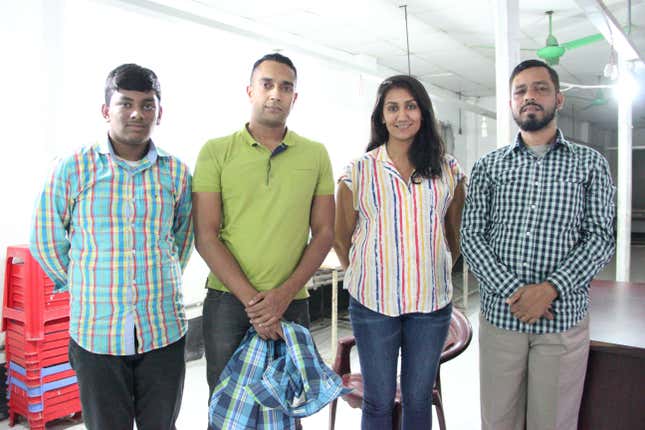 Banerjee hopes that the down the road, factories like Salam's won't have to hide. Mapping them is a first step to ensuring that workers are protected by the same policies applied to factories that appear on the Bangladeshi government and Western retailers' official lists.
"They'll now know that they exist," she said. "You can't deny it if you know that it's there."