The amount advertisers pay Google for each click has been declining for several years now, and fell again last quarter. But outgoing chief financial officer Patrick Pichette tried to reassure investors today that Google's advertising business remains strong. He argued the cost-per-click metric, long how investors have judged Google, doesn't tell the company's whole story.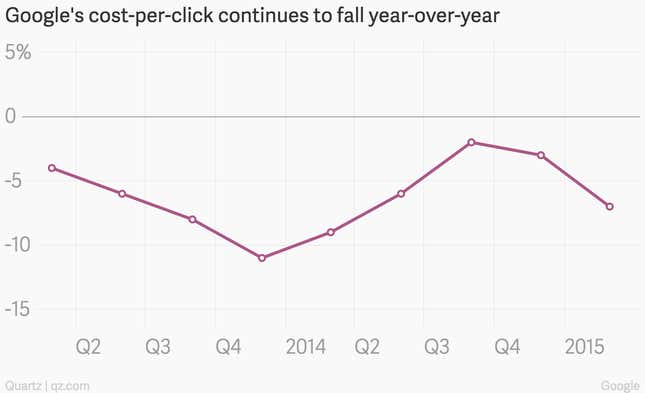 The search giant missed analyst estimates for its first-quarter earnings report with $17.26 billion in revenue and $3.59 billion in profit. Pichette, who will soon be replaced by Morgan Stanley CFO Ruth Porat, blamed currency fluctuations for some of the disappointment. He also tried to dispel the idea that Google is struggling with mobile.
"So many commentators are incorrectly assuming that the growth trends in our sites, clicks, and CPCs are primarily due to difficulties monetizing search on mobile," he said in a call with investors. "That's in fact not the case."
Instead, he highlighted YouTube's role in artificially depressing cost-per-click rates in recent quarters. He said those video ads are better measured by whether people choose not to skip them. Excluding YouTube ads, he said the cost-per-click across across Google's properties would actually "be healthy and growing year-over-year." Investors seemed convinced by his explanation, as the stock jumped 3% in after-hours trading despite the earnings miss.
Facebook remains a big threat to Google, particularly when it comes to mobile. Reporting its earnings yesterday, Facebook revealed that mobile now accounts for 73% of the social network's ad revenue. But Pichette argued that Google has a better sense of user intent than its rivals, allowing it to serve more relevant local ads. He said it's "more valuable to know someone is shopping for a new SUV than it is to know basic demographic information about them."